Contacting Property Manager...
360 Realty & Property Management

17315 FM 529
Houston, TX 77095

Types of Properties We Manage:

- Single Home/condo (up to $300K)
- Single Home/condo ($300 to $500K)
- Single Home/condo ($500K to $1M)
- Multi-Family (2-4 units)
- Multi-Family (5 -19 units)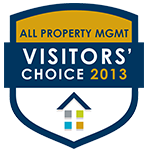 About 360 Realty and Property Management
As owner and broker of 360 Realty and Property Management, Greg Comer strives for first-rate satisfaction among all of his clients. That's why he personally handles the buying, selling or leasing involved in every transaction. 360 Realty and Property Management is family owned and operated with a full-time staff to provide the highest level of service and support for clients.
"We Manage Every Property as Though it Were Our Own."
360 Realty and Property Management guarantees their clients exemplary service. Greg Comer and his team offer nearly 50 years of combined service expertise in the real estate industry. In addition to treating their clients with respect and dignity, 360 Realty and Property Management uses the latest property management software tools to track investments and provide timely analysis.
How We Prepare Your Property for Lease
Prior to leasing your property, one of our property managers sets up a meeting with you in a manner that best suits your schedule--in person or via phone or e-mail. We evaluate your property and make recommendations for preparations. Pending your approval, our property managers coordinate the completion of any repairs or maintenance. This work is always carried out using qualified vendors.
Marketing Your Investment
360 Realty and Property Management has a comprehensive advertising strategy for exposing your property to the right potential tenants. Our listings appear in the Multiple Listing Services (MLS), the Houston Association of Realtors (HAR.com), and a number of key publications including Homes and Land and The Real Estate Book. Local real estate agents receive updates about our properties through e-mail notifications. We do not charge upfront costs to our clients for our property marketing services.
Determine the Right Amount for Your Rent
Our property managers conduct a Comparative Market Analysis (CMA) through a range of real estate resources to help you determine the optimal monthly rental amounts for your properties.
Tenant Application Screenings
360 Realty and Property Management helps you identify the right applicants for your properties. Our property managers review each potential tenant's credit and rental history, checking for prior evictions and broken leases. We contact the previous landlords to verify payment history and the condition of previous properties. Applicants are also screened for income, current employment and criminal background.
Our Tenant Move-In Process
The rental and lease agreements for your properties are prepared with Houston Association of Realtors approved forms. Prior to move-in, our property managers collect the first month's rent and a security deposit in the form of certified funds or a cashier's check. Your tenant will complete and sign a "Statement of Condition" report about the condition of your property at the time of his or her move-in. In addition to signing this report, your new tenant will learn about rental payment terms and any required or regular property maintenance.
How We Maintain Your Investment
360 Realty and Property Management utilizes an affordable network of trusted maintenance vendors to ensure that your property receives quality service in a timely manner. These vendors work closely with us so they're always available to provide maintenance at the earliest time slots available. You never have to wait for them to fit you into their schedules.
Learn more about 360 Realty and Property Management--request your instant quote today!
Back to Property Mangement Companies in Houston