Apartment Construction Speeds in Bloomington-Normal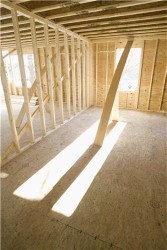 Investors may be able to take advantage of booming rental markets in communities such as the Bloomington-Normal area in Illinois, where The Associated Press and WJBC report apartment construction is accelerating.

While the area's homebuilding industry is sluggish, multifamily construction jumped to 393 units in 22 buildings in 2011, up from 81 units in six buildings the year before, according to the source. The change in this particular market is attributed partly to demand among students at Illinois State University, which has recently closed some housing accommodations.

The source suggests that the general situation of this market reflects a national trend, based on reports of low vacancies and a high rate of rental property construction. Additionally, some experts have noted that a significant number of the nation's renters are individuals who could afford to purchase a home, but choose not to.

With the renter population significantly larger than in the past, investors may find that markets seeing significant construction represent an opportunity. Buildings still under construction cannot meet demand, so purchasing existing properties in such areas may be profitable, depending on the preferences and size of the renter population.
Find Property Managers Near You
Select Property Type
Single Home or Condo (Valued up to $300K)

Single Home or Condo ($300K to $500K)

Single Home or Condo ($500K to $1 Million)

Single Home or Condo (Over $1 Million)

Multi-Family (2-4 units)

Multi-Family (5-19 units)

Multi-Family (20-99 units)

Multi-Family (100+ units)

Homeowners Association (2-49 units)

Homeowners Association (50-99 units)

Homeowners Association (100+ units)

Condominium Association (2-49 units)

Condominium Association (50-99 units)

Condominium Association (100+ units)

Retail (Up to 9,999 sqft)

Retail (10,000 - 100,000 sqft)

Retail (100,000+ sqft)

Office (Up to 9,999 sqft)

Office (10,000 - 100,000 sqft)

Office (100,000+ sqft)

Warehouse/Distribution (Up to 100,000 sqft)

Warehouse/Distribution (100,000+ sqft)

Light Manufacturing (Up to 100,000 sqft)

Light Manufacturing (100,000+ sqft)

Parking Garage

Biotech/Mission-Critical

Vacation (1-2 units)

Vacation (3+ units)

Other Associations (Hotel, Resort etc.)

Mobile Home Community