As Americans grow older, nation's housing needs will change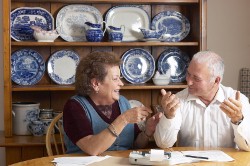 Housing needs may be set to change in the U.S. as the country's population moves toward a major demographic shift.

By 2050, the number of Americans who are at least 65 years old will double to about 88 million, with the senior populace far outpacing the growth of other age groups, according to the Center for Housing Policy. About 20 percent of Americans will be seniors and a growing number will be over the age of 85, the CHP reports. In particular, Arizona, Florida, Nevada and Texas are expected to see the greatest increase in their numbers of elderly residents by 2030.

These Americans may demand more affordable housing designed to meet their needs, particularly since seniors historically have more difficulty with housing affordability. Their financial situations, which may be difficult as concerns over the financial sustainability of retirement have grown in recent years, could be difficult.

"Given the sharp increase in the population of older adults cited in the report, it's essential that we focus now on strengthening the nation's policy response," said development executive Sydelle Knepper.

Investors and rental managers planning for the long-term, particularly in the aforementioned states, may want to begin strategizing how they will adjust their holdings and services to meet the demand these Americans will represent.
Find Property Managers Near You
Select Property Type
Single Home or Condo (Valued up to $300K)

Single Home or Condo ($300K to $500K)

Single Home or Condo ($500K to $1 Million)

Single Home or Condo (Over $1 Million)

Multi-Family (2-4 units)

Multi-Family (5-19 units)

Multi-Family (20-99 units)

Multi-Family (100+ units)

Homeowners Association (2-49 units)

Homeowners Association (50-99 units)

Homeowners Association (100+ units)

Condominium Association (2-49 units)

Condominium Association (50-99 units)

Condominium Association (100+ units)

Retail (Up to 9,999 sqft)

Retail (10,000 - 100,000 sqft)

Retail (100,000+ sqft)

Office (Up to 9,999 sqft)

Office (10,000 - 100,000 sqft)

Office (100,000+ sqft)

Warehouse/Distribution (Up to 100,000 sqft)

Warehouse/Distribution (100,000+ sqft)

Light Manufacturing (Up to 100,000 sqft)

Light Manufacturing (100,000+ sqft)

Parking Garage

Biotech/Mission-Critical

Vacation (1-2 units)

Vacation (3+ units)

Other Associations (Hotel, Resort etc.)

Mobile Home Community