Baltimore residential rental sector facing flawed conditions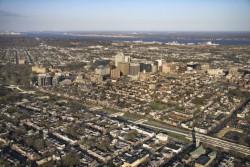 Rental housing investors may find opportunities in Baltimore if they can overcome some of the challenges facing the metro area.

Rents in the city are not as high as they could be, partly as a result of limited job growth. Coupled with high property taxes, these conditions prevent the area from becoming more attractive for further investment or new development, according to Multifamily Executive. The public transportation system in the metro is not as strong as in nearby Washington, D.C.

The District of Columbia often overshadows Baltimore when rental housing stakeholders are looking at alternatives. Partly because of that, there may be less competition in Baltimore for those who can find business opportunities. The city typically ranks third or fourth among the second-tier metros in the country, one executive notes.

The various factors holding back the rental housing sector may limit interest in otherwise attractive properties. Given the increased need for personal transportation, some renters might be more interested in single-family properties rather than apartments. This may contribute to demand in some submarkets, benefitting a few investors and rental managers.
Find Property Managers Near You
Select Property Type
Single Home or Condo (Valued up to $300K)

Single Home or Condo ($300K to $500K)

Single Home or Condo ($500K to $1 Million)

Single Home or Condo (Over $1 Million)

Multi-Family (2-4 units)

Multi-Family (5-19 units)

Multi-Family (20-99 units)

Multi-Family (100+ units)

Homeowners Association (2-49 units)

Homeowners Association (50-99 units)

Homeowners Association (100+ units)

Condominium Association (2-49 units)

Condominium Association (50-99 units)

Condominium Association (100+ units)

Retail (Up to 9,999 sqft)

Retail (10,000 - 100,000 sqft)

Retail (100,000+ sqft)

Office (Up to 9,999 sqft)

Office (10,000 - 100,000 sqft)

Office (100,000+ sqft)

Warehouse/Distribution (Up to 100,000 sqft)

Warehouse/Distribution (100,000+ sqft)

Light Manufacturing (Up to 100,000 sqft)

Light Manufacturing (100,000+ sqft)

Parking Garage

Biotech/Mission-Critical

Vacation (1-2 units)

Vacation (3+ units)

Other Associations (Hotel, Resort etc.)

Mobile Home Community