Bedbugs a returning problem in rental housing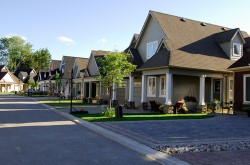 Bedbugs are a growing problem in the Chicago area, according to the Chicago Reader, and may be in the state and the nation as a whole as well.

The pests seem to have re-emerged in the past decade, the source reports, after being rare since the invention and use of DDT and other pesticides in the 1940s. The banning of DDT may have contributed to the problem and some suggest international travel and an improved resistance to pesticides as possible contributing factors.

According to the 2011 Bugs Without Borders Survey by the National Pest Management Association and the University of Kentucky, 99 percent of more than 1,000 pest control companies in the nation encountered a bedbug infestation within the year leading up to the survey. A decade earlier, the same survey found only 11 percent reported finding one.

One thing that makes dealing with bedbugs difficult, according to the source, is that federal, state and local laws do not generally describe landlord and tenant responsibilities. Rental property management firms, landlords and tenants may be unable to determine who is responsible for bringing them into a property.

An Illinois Department of Public Health's Structural Pest Control Advisory Council subcommittee considering the issue recently suggested that tenants be responsible for reporting the problem and landlords be tasked with exterminating the creatures.
Find Property Managers Near You
Select Property Type
Single Home or Condo (Valued up to $300K)

Single Home or Condo ($300K to $500K)

Single Home or Condo ($500K to $1 Million)

Single Home or Condo (Over $1 Million)

Multi-Family (2-4 units)

Multi-Family (5-19 units)

Multi-Family (20-99 units)

Multi-Family (100+ units)

Homeowners Association (2-49 units)

Homeowners Association (50-99 units)

Homeowners Association (100+ units)

Condominium Association (2-49 units)

Condominium Association (50-99 units)

Condominium Association (100+ units)

Retail (Up to 9,999 sqft)

Retail (10,000 - 100,000 sqft)

Retail (100,000+ sqft)

Office (Up to 9,999 sqft)

Office (10,000 - 100,000 sqft)

Office (100,000+ sqft)

Warehouse/Distribution (Up to 100,000 sqft)

Warehouse/Distribution (100,000+ sqft)

Light Manufacturing (Up to 100,000 sqft)

Light Manufacturing (100,000+ sqft)

Parking Garage

Biotech/Mission-Critical

Vacation (1-2 units)

Vacation (3+ units)

Other Associations (Hotel, Resort etc.)

Mobile Home Community