CBRE: Vacancy rate slips in Q2 from year earlier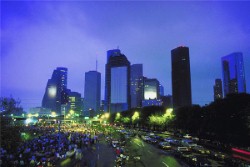 The country's rental vacancy rate declined during the second quarter by a considerable margin, according to a report from CBRE, indicating business is likely booming for rental property managers nationwide.

The rate dropped in 52 major rental markets compared to the year before, the report found. The most substantial annual dips in apartment vacancies occurred in major markets including Houston, Cincinnati and Salt Lake City.

In addition to a decrease in vacancies in the rental sector, the research firm indicated rates also fell in every other commercial real estate market, including retail and office properties.

"The commercial real estate recovery remained intact in the second quarter, despite growing worries about the global economy," said CBRE managing director Jon Southard.

Through the rest of 2012, CBRE expects effective rent growth to continue to improve in markets across the U.S., as long as the economy makes strides toward a recovery.

Dips in apartment vacancies may end this summer if more consumers turn to the for-sale housing market and purchase residential properties. However, numerous rental sector fundamentals should remain strong through year's end, experts assert.
Find Property Managers Near You
Select Property Type
Single Home or Condo (Valued up to $300K)

Single Home or Condo ($300K to $500K)

Single Home or Condo ($500K to $1 Million)

Single Home or Condo (Over $1 Million)

Multi-Family (2-4 units)

Multi-Family (5-19 units)

Multi-Family (20-99 units)

Multi-Family (100+ units)

Homeowners Association (2-49 units)

Homeowners Association (50-99 units)

Homeowners Association (100+ units)

Condominium Association (2-49 units)

Condominium Association (50-99 units)

Condominium Association (100+ units)

Retail (Up to 9,999 sqft)

Retail (10,000 - 100,000 sqft)

Retail (100,000+ sqft)

Office (Up to 9,999 sqft)

Office (10,000 - 100,000 sqft)

Office (100,000+ sqft)

Warehouse/Distribution (Up to 100,000 sqft)

Warehouse/Distribution (100,000+ sqft)

Light Manufacturing (Up to 100,000 sqft)

Light Manufacturing (100,000+ sqft)

Parking Garage

Biotech/Mission-Critical

Vacation (1-2 units)

Vacation (3+ units)

Other Associations (Hotel, Resort etc.)

Mobile Home Community