Energy audits growing more common in housing industry, but slowly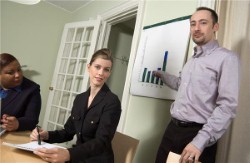 An energy audit can alert investors to costly problems before they make a purchase, if they know to request one.

The cost of such an examination is often relatively low and easily added to a standard appraisal, according to the
Washington
Post. Such investigation could reveal flaws such as windows that leak heat, thin insulation and lighting or appliances that use excessive amounts of energy. In other cases, a particularly efficient house may be able to command a higher price, the news source notes.

Owners,
rental managers
and tenants may be interested in the benefits of efficiency. Some research suggests that upgrades and improvements can often be profitable over time, despite the initial cost, and they may appeal to buyers when the time comes, setting a home apart from the competition. Despite this, relatively few professionals push for energy audits, according to the news source.

This may be partly because they are simply not used to doing so. People may wish to avoid paying for the energy audit or fear that it will increase pressure to perform expensive repairs or upgrades. Some builders, on the other hand, are beginning to use them more frequently to evaluate new units and then market them based on the findings.
Find Property Managers Near You
Select Property Type
Single Home or Condo (Valued up to $300K)

Single Home or Condo ($300K to $500K)

Single Home or Condo ($500K to $1 Million)

Single Home or Condo (Over $1 Million)

Multi-Family (2-4 units)

Multi-Family (5-19 units)

Multi-Family (20-99 units)

Multi-Family (100+ units)

Homeowners Association (2-49 units)

Homeowners Association (50-99 units)

Homeowners Association (100+ units)

Condominium Association (2-49 units)

Condominium Association (50-99 units)

Condominium Association (100+ units)

Retail (Up to 9,999 sqft)

Retail (10,000 - 100,000 sqft)

Retail (100,000+ sqft)

Office (Up to 9,999 sqft)

Office (10,000 - 100,000 sqft)

Office (100,000+ sqft)

Warehouse/Distribution (Up to 100,000 sqft)

Warehouse/Distribution (100,000+ sqft)

Light Manufacturing (Up to 100,000 sqft)

Light Manufacturing (100,000+ sqft)

Parking Garage

Biotech/Mission-Critical

Vacation (1-2 units)

Vacation (3+ units)

Other Associations (Hotel, Resort etc.)

Mobile Home Community