Family-sized apartments lacking in Brooklyn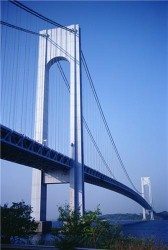 Changes in the demographics in neighborhoods throughout Brooklyn are leading many apartment developers to rethink what types of units they should be producing borough-wide, according to a report by the Wall Street Journal.

For example, citing data from real estate company MNS, the newspaper states few apartments in many of Brooklyn's neighborhoods, such as Williamsburg, have 1,500 square feet or more, leaving many families hoping to live in the area to look elsewhere.

"When we started developing, Williamsburg was pretty much recognized as a creative community - artists, musicians, galleries, cafes, vintage clothing," Jeffrey Levine, of Douglaston Development, told the WSJ. "As time passed, years turned hipsters into parents."

Despite this lack of available large apartments throughout Brooklyn, more units that could fit small families are being developed or converted citywide, the paper reports.

Property management firms in the borough may have a considerable number of opportunities for business in the coming years should more units come online during that time.
Find Property Managers Near You
Select Property Type
Single Home or Condo (Valued up to $300K)

Single Home or Condo ($300K to $500K)

Single Home or Condo ($500K to $1 Million)

Single Home or Condo (Over $1 Million)

Multi-Family (2-4 units)

Multi-Family (5-19 units)

Multi-Family (20-99 units)

Multi-Family (100+ units)

Homeowners Association (2-49 units)

Homeowners Association (50-99 units)

Homeowners Association (100+ units)

Condominium Association (2-49 units)

Condominium Association (50-99 units)

Condominium Association (100+ units)

Retail (Up to 9,999 sqft)

Retail (10,000 - 100,000 sqft)

Retail (100,000+ sqft)

Office (Up to 9,999 sqft)

Office (10,000 - 100,000 sqft)

Office (100,000+ sqft)

Warehouse/Distribution (Up to 100,000 sqft)

Warehouse/Distribution (100,000+ sqft)

Light Manufacturing (Up to 100,000 sqft)

Light Manufacturing (100,000+ sqft)

Parking Garage

Biotech/Mission-Critical

Vacation (1-2 units)

Vacation (3+ units)

Other Associations (Hotel, Resort etc.)

Mobile Home Community