Federal Reserve chiefs assess housing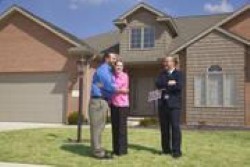 At the recent U.S. Monetary Policy Forum in New York City, St. Louis Federal Reserve President and CEO James Bullard stated that American attitudes toward housing have changed.

After experiencing the collapse of the housing bubble, Bullard stated, a new generation of American adults now perceives homeownership differently from their predecessors, viewing it as a riskier proposition. The idea of owning a home, according to Bullard, is no longer so closely identified with the concept of the American dream.

San Francisco Federal Reserve President and CEO John Williams, on the other hand, stated that the role of housing in the recession may be overestimated by many. He noted that home prices peaked in 2006 and had already fallen significantly by September 2008, when other economic problems made themselves felt more strongly. This suggests that economic recovery may need a broader focus to be successful.

As far as the future is concerned, Bullard stated that outstanding mortgage debt is a major problem for many Americans, and the disparity between equity and loan values may be seen as a danger of buying a home. Both practical limitations and changed attitudes could result in a permanent shift that sees more Americans renting.

As these Americans age, it is possible that they might retain their preference for rentals while still wishing to move into single-family homes. Such a change could be beneficial for investors and rental managers, if they are prepared for it.
Find Property Managers Near You
Select Property Type
Single Home or Condo (Valued up to $300K)

Single Home or Condo ($300K to $500K)

Single Home or Condo ($500K to $1 Million)

Single Home or Condo (Over $1 Million)

Multi-Family (2-4 units)

Multi-Family (5-19 units)

Multi-Family (20-99 units)

Multi-Family (100+ units)

Homeowners Association (2-49 units)

Homeowners Association (50-99 units)

Homeowners Association (100+ units)

Condominium Association (2-49 units)

Condominium Association (50-99 units)

Condominium Association (100+ units)

Retail (Up to 9,999 sqft)

Retail (10,000 - 100,000 sqft)

Retail (100,000+ sqft)

Office (Up to 9,999 sqft)

Office (10,000 - 100,000 sqft)

Office (100,000+ sqft)

Warehouse/Distribution (Up to 100,000 sqft)

Warehouse/Distribution (100,000+ sqft)

Light Manufacturing (Up to 100,000 sqft)

Light Manufacturing (100,000+ sqft)

Parking Garage

Biotech/Mission-Critical

Vacation (1-2 units)

Vacation (3+ units)

Other Associations (Hotel, Resort etc.)

Mobile Home Community