Fifty Twitter Ideas for Landlords and Property Managers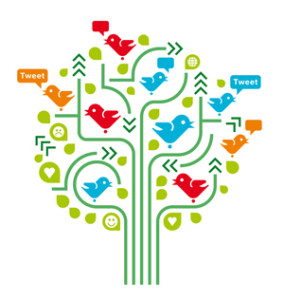 If you can breathe, you've probably heard of Twitter. You might even have a Twitter account, which you may or may not use. With its initial public offering this week (called the most anticipated stock debut of the year) Twitter is likely to become an even more prominent social media and advertising tool as investors seek to maximize profits from advertising revenue. Clearly, Twitter is going to be around for a while.

There are a couple of reasons why landlords and property managers should start using Twitter regularly. First, Twitter isn't going anywhere, and knowing how to use Twitter will undoubtedly come in handy. Second, of all the social media platforms, Twitter is one of the easiest to use thanks to its message limit of 140 characters and simple, mobile phone-friendly interface. And third, Twitter is a great way to communicate useful information and reminders to your tenants.

While there's lots of information about how to use Twitter on the Internet, there isn't a ton of information about what to Tweet about--especially if you're a landlord or property manager. The key to twitter is to post information that is "
helpful in a friendly way
" to your tenants. This means you shouldn't post legal notices or reminders that rent is past due, but you should post useful information that might make your tenants' lives easier, or maybe even more fun.

We thought it would be useful to give some specific ideas and inspiration, so here are fifty items of useful information your tenants might appreciate:

1. Tenant maintenance tips
2. Welcome new residents (with their permission for privacy reasons)
3. Local and seasonal events
4. Local offers, coupons, or deals
5. Maintenance announcements or reminders
6. Share blog posts
7. Road closures
8. Severe weather warnings
9. Share your newsletter
10. Photos of new employees
11. Post vacancies
12. Lost/found items (but no pictures)
13. Power outage reminders
14. Fire safety tips
15. Garbage day reminders
16. Link to community calendar
17. Parking rules reminders
18. Inspection reminders
19. Birthday announcements (with permission)
20. Resident meeting times
21. Reminders about upcoming utility work
22. On-time rent incentives
23. Price drops or move-in specials
24. Crime alerts or warnings
25. Photos of maintenance and repair work happening and when completed
26. Photos of available units and link to application information webpage
27. Link to state/local renters guide
28. Link to recycling guidelines
29. Link to water conservation tips
30. Link to energy conservation tips
31. Election day reminders and link to nearest ballot drop-offs
32. Daylight savings time reminder to change clocks
33. Changes in public transportation schedules
34. Link to "house rules/policies" web page
35. Link to online rent payment website or app
36. Holiday greetings and link to related events
37. Decorating tips that work well for your rentals (and that you approve of)
38. Link to area blood drive information
39. Link to local emergency services/urgent care information
40. Link to local public library
41. Link to your business Facebook or Google+ page
42. Reminders to submit maintenance requests, if any
43. Link to article on the value of renters insurance
44. Link to drop-off locations (such as Goodwill) for no-longer-used items
45. Reminder about your rental property's landscaping/mowing schedule
46. New store or business openings
47. Reminder to check batteries in smoke/carbon monoxide detectors
48. Reminder to check area under sinks for water damage, and report any problems
49. Reminder about scheduled computer/battery/printer cartridge recycling
50. Thank yous for specific acts to residents, vendors, local businesses, and service providers

Are you a regular tweeter? We'd love to hear what works for you, and also if you've had any "Twitter fails."

By
Tracey March
Find Property Managers Near You
Select Property Type
Single Home or Condo (Valued up to $300K)

Single Home or Condo ($300K to $500K)

Single Home or Condo ($500K to $1 Million)

Single Home or Condo (Over $1 Million)

Multi-Family (2-4 units)

Multi-Family (5-19 units)

Multi-Family (20-99 units)

Multi-Family (100+ units)

Homeowners Association (2-49 units)

Homeowners Association (50-99 units)

Homeowners Association (100+ units)

Condominium Association (2-49 units)

Condominium Association (50-99 units)

Condominium Association (100+ units)

Retail (Up to 9,999 sqft)

Retail (10,000 - 100,000 sqft)

Retail (100,000+ sqft)

Office (Up to 9,999 sqft)

Office (10,000 - 100,000 sqft)

Office (100,000+ sqft)

Warehouse/Distribution (Up to 100,000 sqft)

Warehouse/Distribution (100,000+ sqft)

Light Manufacturing (Up to 100,000 sqft)

Light Manufacturing (100,000+ sqft)

Parking Garage

Biotech/Mission-Critical

Vacation (1-2 units)

Vacation (3+ units)

Other Associations (Hotel, Resort etc.)

Mobile Home Community