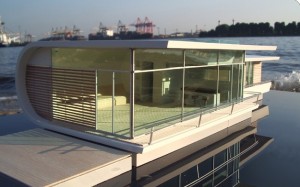 Floating home designs create a sense of ethereal living that just can't be found in traditional box style homes. But then again these homes are not designed to sit on your traditional lot, they are actually designed to float on water.


Floating Homes GMBH
is a german based company that began after they received wide acclaim and a first place win in a Europe-wide Wasserstadt GmbH Berlin competition. The competition required that homes become a whole new breed which was neither boat nor home. Floating Homes walked off with the win and enough enthusiasm to encourage them to develop four different structures.

The company is hoping to make a product that can be shipped worldwide and you'll simply have to install the prefabricated pieces or hire a contractor to put your floating home together.

But before you get out your checkbook there are a few things to consider. The first is a given with real estate, the location. You can't just plop a home on any body of water. The second consideration is financing as floating homes are handled much differently, they're considered property rather than a home. A floating home is also going to come with a larger insurance bill. But if you can wade through these difficulties then you'll love your zen-like floating home.
Find Property Managers Near You
Select Property Type
Single Home or Condo (Valued up to $300K)

Single Home or Condo ($300K to $500K)

Single Home or Condo ($500K to $1 Million)

Single Home or Condo (Over $1 Million)

Multi-Family (2-4 units)

Multi-Family (5-19 units)

Multi-Family (20-99 units)

Multi-Family (100+ units)

Homeowners Association (2-49 units)

Homeowners Association (50-99 units)

Homeowners Association (100+ units)

Condominium Association (2-49 units)

Condominium Association (50-99 units)

Condominium Association (100+ units)

Retail (Up to 9,999 sqft)

Retail (10,000 - 100,000 sqft)

Retail (100,000+ sqft)

Office (Up to 9,999 sqft)

Office (10,000 - 100,000 sqft)

Office (100,000+ sqft)

Warehouse/Distribution (Up to 100,000 sqft)

Warehouse/Distribution (100,000+ sqft)

Light Manufacturing (Up to 100,000 sqft)

Light Manufacturing (100,000+ sqft)

Parking Garage

Biotech/Mission-Critical

Vacation (1-2 units)

Vacation (3+ units)

Other Associations (Hotel, Resort etc.)

Mobile Home Community