Foreign investors adding to competition for Miami residential property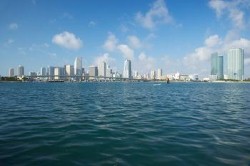 The Miami real estate market continues to draw international investors due to a relatively large pool of high-quality assets, according to a report.

Historically, Miami residential real estate has been attractive to many sources of private capital. Investors from abroad have often seen it as a sound opportunity and acted accordingly. Some are showing a particular focus, such as Latin American investors becoming active in the condominium market.

Researchers from Coldwell Banker Real Estate say the jump in cross-border investment is partly due to the level of liquidity U.S. markets, which exceeds that available in other areas these investors might consider.

"In this economy you have seen significant investments from Latin America and Mexico purchasing A class office and multifamily properties and competing very effectively with the institutions and the traditional U.S. purchasers," said CBRE vice chairman of South Florida Markets Charles Foschini. He noted that investors are also confident because, in the past, Florida has cleared inventory faster than projections suggested.

U.S. investors may want to become involved for the same reasons, or steer clear of the high level of competition Miami experiences. Developing knowledge of local rental managers and other factors that may be hard to judge could provide an advantage.
Find Property Managers Near You
Select Property Type
Single Home or Condo (Valued up to $300K)

Single Home or Condo ($300K to $500K)

Single Home or Condo ($500K to $1 Million)

Single Home or Condo (Over $1 Million)

Multi-Family (2-4 units)

Multi-Family (5-19 units)

Multi-Family (20-99 units)

Multi-Family (100+ units)

Homeowners Association (2-49 units)

Homeowners Association (50-99 units)

Homeowners Association (100+ units)

Condominium Association (2-49 units)

Condominium Association (50-99 units)

Condominium Association (100+ units)

Retail (Up to 9,999 sqft)

Retail (10,000 - 100,000 sqft)

Retail (100,000+ sqft)

Office (Up to 9,999 sqft)

Office (10,000 - 100,000 sqft)

Office (100,000+ sqft)

Warehouse/Distribution (Up to 100,000 sqft)

Warehouse/Distribution (100,000+ sqft)

Light Manufacturing (Up to 100,000 sqft)

Light Manufacturing (100,000+ sqft)

Parking Garage

Biotech/Mission-Critical

Vacation (1-2 units)

Vacation (3+ units)

Other Associations (Hotel, Resort etc.)

Mobile Home Community