Graduate employment in SoCal expected to rise this year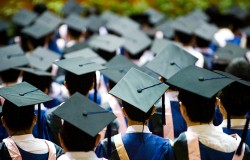 Soon-to-be college graduates in Southern California may find a better job market than in years past, a report by the Los Angeles Times notes, which could bode well for chances for many of them to afford high-priced rentals in the region.

The paper cites a National Association of Colleges and Employers survey which found graduate employment should spike nearly 10 percent in the U.S. this year.

Some students from Cal State Long Beach and the University of California Los Angeles told the newspaper they expect to enter a better job market than graduates from the past few years have entered post-school. One employment recruiter also stated the local market is shaping up.

"This is the best moment I've seen for seniors for four years. There is a lot more optimism," Prudential Insurance Co. of America recruiter Halvern Logan told the newspaper.

Several apartment market forecasts for the Los Angeles-area indicate the region should see strong activity in leasing. With employment expected to rise for SoCal grads, property managers and owners could reap the benefits and see further growth.

 
Find Property Managers Near You
Select Property Type
Single Home or Condo (Valued up to $300K)

Single Home or Condo ($300K to $500K)

Single Home or Condo ($500K to $1 Million)

Single Home or Condo (Over $1 Million)

Multi-Family (2-4 units)

Multi-Family (5-19 units)

Multi-Family (20-99 units)

Multi-Family (100+ units)

Homeowners Association (2-49 units)

Homeowners Association (50-99 units)

Homeowners Association (100+ units)

Condominium Association (2-49 units)

Condominium Association (50-99 units)

Condominium Association (100+ units)

Retail (Up to 9,999 sqft)

Retail (10,000 - 100,000 sqft)

Retail (100,000+ sqft)

Office (Up to 9,999 sqft)

Office (10,000 - 100,000 sqft)

Office (100,000+ sqft)

Warehouse/Distribution (Up to 100,000 sqft)

Warehouse/Distribution (100,000+ sqft)

Light Manufacturing (Up to 100,000 sqft)

Light Manufacturing (100,000+ sqft)

Parking Garage

Biotech/Mission-Critical

Vacation (1-2 units)

Vacation (3+ units)

Other Associations (Hotel, Resort etc.)

Mobile Home Community