Green rental financing availability may improve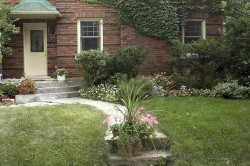 Property managers, owners and developers operating or building affordable housing may find it easier to secure financing for energy-efficient upgrades.

The potential to lower costs aligns well with the need to keep expenses low when selling or renting affordable units, while market-rate and top-tier housing tends to be less aggressive about pursuing savings.

One of the reasons for this has been a lack of information that could be used to show the benefits of energy efficiency to potential investors, Apartment Finance Today notes. That issue may soon be resolved as The Urban Land Institute and other organizations are collaborating with the White House Council on Environmental Equality to standardize their energy consumption data.

Doing so will allow it to be consolidated and used for meaningful comparisons and analyses, which may more effectively demonstrate the advantages that energy efficient designs can have. That, in turn, could cause investors to yield financing for green rentals more readily.

Some commercial entities may also be making strides in this area, while the U.S. Department of Housing and Urban Development has two programs that promote investment in green rentals. These could be signs that energy efficiency will become more common among residential rentals soon.
Find Property Managers Near You
Select Property Type
Single Home or Condo (Valued up to $300K)

Single Home or Condo ($300K to $500K)

Single Home or Condo ($500K to $1 Million)

Single Home or Condo (Over $1 Million)

Multi-Family (2-4 units)

Multi-Family (5-19 units)

Multi-Family (20-99 units)

Multi-Family (100+ units)

Homeowners Association (2-49 units)

Homeowners Association (50-99 units)

Homeowners Association (100+ units)

Condominium Association (2-49 units)

Condominium Association (50-99 units)

Condominium Association (100+ units)

Retail (Up to 9,999 sqft)

Retail (10,000 - 100,000 sqft)

Retail (100,000+ sqft)

Office (Up to 9,999 sqft)

Office (10,000 - 100,000 sqft)

Office (100,000+ sqft)

Warehouse/Distribution (Up to 100,000 sqft)

Warehouse/Distribution (100,000+ sqft)

Light Manufacturing (Up to 100,000 sqft)

Light Manufacturing (100,000+ sqft)

Parking Garage

Biotech/Mission-Critical

Vacation (1-2 units)

Vacation (3+ units)

Other Associations (Hotel, Resort etc.)

Mobile Home Community