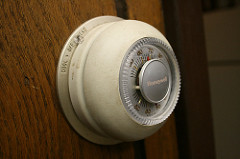 Cold snaps have hit some all time lows across the U.S. this year and, at the same time, many people are thinking about finding more efficient? ways to heat their home, perhaps ways that will also be less harmful for the environment. There are a number of options available that are both efficient and eco-friendly but not every solution works for every home.
photo credit: midnightcomm
Solar Heat


Solar heat is quite a commitment to reducing energy bills in your home and saving the environment but it's very effective and eco-friendly. If you're not financially able to completely overhaul your home for solar heat try a do it yourself project that incorporates some of the benefits of the sun, or go the very inexpensive route and use your windows to draw as much solar heat and light into your home as possible. Even a small sunlight collecting mirror is a great way to start.


Earth Sheltered Homes


Not really a possibility for most existing homes but this is something to consider if you're building. Your home doesn't necessarily have to be completely underground, but even partial earth-bermed shelter can greatly reduce your consumption of energy, keeping you cool in the summer and warm in the winter. But for homes with a basement, you can take advantage of your pre-made earth shelter by spending more time in the basement and treating it as a family room.


Renewable Heating Fuels


Instead of going with traditional fossil fuels, look into using renewable heating fuels in your home. Renewable fuels include wood and biodiesel so using an energy efficient, wood burning fireplace is not only romantic, but a great home heating option.
Find Property Managers Near You
Select Property Type
Single Home or Condo (Valued up to $300K)

Single Home or Condo ($300K to $500K)

Single Home or Condo ($500K to $1 Million)

Single Home or Condo (Over $1 Million)

Multi-Family (2-4 units)

Multi-Family (5-19 units)

Multi-Family (20-99 units)

Multi-Family (100+ units)

Homeowners Association (2-49 units)

Homeowners Association (50-99 units)

Homeowners Association (100+ units)

Condominium Association (2-49 units)

Condominium Association (50-99 units)

Condominium Association (100+ units)

Retail (Up to 9,999 sqft)

Retail (10,000 - 100,000 sqft)

Retail (100,000+ sqft)

Office (Up to 9,999 sqft)

Office (10,000 - 100,000 sqft)

Office (100,000+ sqft)

Warehouse/Distribution (Up to 100,000 sqft)

Warehouse/Distribution (100,000+ sqft)

Light Manufacturing (Up to 100,000 sqft)

Light Manufacturing (100,000+ sqft)

Parking Garage

Biotech/Mission-Critical

Vacation (1-2 units)

Vacation (3+ units)

Other Associations (Hotel, Resort etc.)

Mobile Home Community