Homebuilder confidence remains stagnant, consumer sentiment drops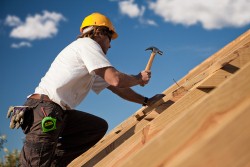 Confidence in the single-family homebuilding market was the same in March as in February, while consumer sentiment in the overall economy dipped amid household finance issues persist for many Americans, two reports show.

The National Association of Home Builders/Wells Fargo Housing Market Index remained steady at a reading of 28 in March - the first non-gain after five straight months of growth.

"While builders are still very cautious at this time, there is a sense that many local housing markets have started to move in the right direction and that prospects for future sales are improving," said NAHB chairman Barry Rutenberg.

Meanwhile, consumer confidence declined markedly, according to the Thomson Reuters/University of Michigan consumer sentiment report, as it fell to a level of 74.3 in March, which is down from 75.3 a month earlier. Rising gas prices are reportedly keeping consumer sentiment low in various areas across the U.S.

In addition to a poor outlook in the for-sale real estate market, tight mortgage lending standards remain a roadblock for many consumers looking to purchase homes, so rental demand could continue to spike as 2012 progresses. This preference could bring considerable business for rental managers.
Find Property Managers Near You
Select Property Type
Single Home or Condo (Valued up to $300K)

Single Home or Condo ($300K to $500K)

Single Home or Condo ($500K to $1 Million)

Single Home or Condo (Over $1 Million)

Multi-Family (2-4 units)

Multi-Family (5-19 units)

Multi-Family (20-99 units)

Multi-Family (100+ units)

Homeowners Association (2-49 units)

Homeowners Association (50-99 units)

Homeowners Association (100+ units)

Condominium Association (2-49 units)

Condominium Association (50-99 units)

Condominium Association (100+ units)

Retail (Up to 9,999 sqft)

Retail (10,000 - 100,000 sqft)

Retail (100,000+ sqft)

Office (Up to 9,999 sqft)

Office (10,000 - 100,000 sqft)

Office (100,000+ sqft)

Warehouse/Distribution (Up to 100,000 sqft)

Warehouse/Distribution (100,000+ sqft)

Light Manufacturing (Up to 100,000 sqft)

Light Manufacturing (100,000+ sqft)

Parking Garage

Biotech/Mission-Critical

Vacation (1-2 units)

Vacation (3+ units)

Other Associations (Hotel, Resort etc.)

Mobile Home Community