Homeownership rate dropped in 2011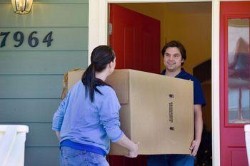 The national homeownership rate fell for the seventh consecutive year in 2011, according to the U.S. Census Bureau, reaching a 14-year low of 66 percent.

The last time the homeownership rate was that low was in 1997, when it reached 65.7 percent. It rose from that year until 2005, when the trend reversed, reaching a high of 69 percent. The homeowner vacancy rate was down 0.4 percent in year-over-year in the fourth quarter, though only 0.1 percent from the third quarter of 2011. Meanwhile, the rental housing vacancy rate was stable at 9.4 percent.

During the fourth quarter, HousingWire reports, the overall national housing occupancy rate was 86.1 percent, with owner-occupied units accounting for 56.9 percent and rental units the other 29.3 percent. Analytics firm Capital Economics stated that fewer Americans are owning their own homes.

As a result, rental managers are able to fill more units and rents are increasing, improving the return on investment for property owners. A strong rental management team may be able to take advantage of these circumtances.
Find Property Managers Near You
Select Property Type
Single Home or Condo (Valued up to $300K)

Single Home or Condo ($300K to $500K)

Single Home or Condo ($500K to $1 Million)

Single Home or Condo (Over $1 Million)

Multi-Family (2-4 units)

Multi-Family (5-19 units)

Multi-Family (20-99 units)

Multi-Family (100+ units)

Homeowners Association (2-49 units)

Homeowners Association (50-99 units)

Homeowners Association (100+ units)

Condominium Association (2-49 units)

Condominium Association (50-99 units)

Condominium Association (100+ units)

Retail (Up to 9,999 sqft)

Retail (10,000 - 100,000 sqft)

Retail (100,000+ sqft)

Office (Up to 9,999 sqft)

Office (10,000 - 100,000 sqft)

Office (100,000+ sqft)

Warehouse/Distribution (Up to 100,000 sqft)

Warehouse/Distribution (100,000+ sqft)

Light Manufacturing (Up to 100,000 sqft)

Light Manufacturing (100,000+ sqft)

Parking Garage

Biotech/Mission-Critical

Vacation (1-2 units)

Vacation (3+ units)

Other Associations (Hotel, Resort etc.)

Mobile Home Community