Homes in Seattle have appreciated in value: Rent or sell?
Now that homes in Seattle have appreciated in value, is it better to sell or rent out your property?


Most US states have seen a rise in home prices. Further appreciation will come over the next year according to the REALTORS Confidence Index Report released in April 2014. The nation is expected to see property values further increase by a median of 4%. This trend provides homeowners looking to downsize or upgrade the opportunity to keep their current property as an investment.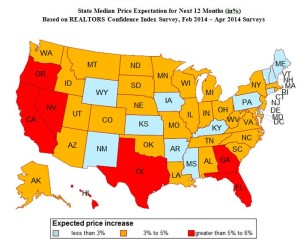 In fact, the recent home price increases have made it harder to buy a house which has made the rental market go crazy. Rents are increasing and vacancy is decreasing. Choosing to turn your property into a profitable rental is more viable than ever before.


What caused this spike in appreciation?


Mark Ferguson, a successful Northern Colorado real estate broker and rental home investor, commented, "In my market we have almost no inventory. Last year we had 1,500 homes for sale and now we have 300... There simply are not enough lower priced homes for the current buyer demand. That demand is continuing to push prices higher." As home prices rise, more people opt to rent. In turn, this increases the viability of profitable rental properties.


What caused the lower inventory of homes?


One factor was little to no new home construction. Construction of new homes has not kept pace with the post-crisis recovery. With lack of additional inventory entering the housing pool and the population increasing, the market is in short supply, driving demand and prices. Though we have seen a resurgence in new construction in parts of the country, there still remains a huge demand for more affordable housing.


How does this affect property owners or investors?


Ferguson continues to explain, "The great thing about real estate is if you already own property, inflation is not a bad thing. Your rents and values will most likely increase and your payments stay the same. The downside is that its more expensive to buy property, but if the rents are rising as well, you should still be able to make the same amount of margin."


How are property managers partners in this process?


We're obviously biased. We believe that a professional property manager can help you save money and time by avoiding costly mistakes. Give us a call at 877-215-9182 or
browse a list
of our favorite property managers online!


We hope this article was helpful! Thanks for reading.


- The All Property Management Team

Find a Local Property Manager

Search our favorites

or call 877-215-9182
Find Property Managers Near You
Select Property Type
Single Home or Condo (Valued up to $300K)

Single Home or Condo ($300K to $500K)

Single Home or Condo ($500K to $1 Million)

Single Home or Condo (Over $1 Million)

Multi-Family (2-4 units)

Multi-Family (5-19 units)

Multi-Family (20-99 units)

Multi-Family (100+ units)

Homeowners Association (2-49 units)

Homeowners Association (50-99 units)

Homeowners Association (100+ units)

Condominium Association (2-49 units)

Condominium Association (50-99 units)

Condominium Association (100+ units)

Retail (Up to 9,999 sqft)

Retail (10,000 - 100,000 sqft)

Retail (100,000+ sqft)

Office (Up to 9,999 sqft)

Office (10,000 - 100,000 sqft)

Office (100,000+ sqft)

Warehouse/Distribution (Up to 100,000 sqft)

Warehouse/Distribution (100,000+ sqft)

Light Manufacturing (Up to 100,000 sqft)

Light Manufacturing (100,000+ sqft)

Parking Garage

Biotech/Mission-Critical

Vacation (1-2 units)

Vacation (3+ units)

Other Associations (Hotel, Resort etc.)

Mobile Home Community