Housing market may be moving toward stability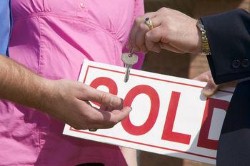 The window of opportunity for investors to take advantage of low home prices may close soon, as a rebound approaches.

Prices have likely gone as low as they are going to in most markets, according to the latest housing outlook report from Freddie Mac. Affordability has begun to be motivate owner-occupier purchases in more significant numbers, as well as attracting investors. With foreclosure inventory dropping in many areas, the housing market may be moving towards stability.

Although this may mean dwindling opportunities for investors to make purchases, the broader economic benefits may compensate for that. Income levels and other consumer financial factors might impede rent growth and real estate business in general without improvement, and a stronger economy should lead to more new household formation, among other results.

With rents more expensive than purchases in some markets, a more stable market for home purchases could actually have some benefits for the rental housing sector as well. The report notes that the shift away from homeownership may be a lasting one, at least partially, so the rental housing industry and single-family investors in particular could find there is more scope for their products and services than in the past. The improvement over pre-recession levels of business is likely to be a lasting one for rental managers, though it may slow down.
Find Property Managers Near You
Select Property Type
Single Home or Condo (Valued up to $300K)

Single Home or Condo ($300K to $500K)

Single Home or Condo ($500K to $1 Million)

Single Home or Condo (Over $1 Million)

Multi-Family (2-4 units)

Multi-Family (5-19 units)

Multi-Family (20-99 units)

Multi-Family (100+ units)

Homeowners Association (2-49 units)

Homeowners Association (50-99 units)

Homeowners Association (100+ units)

Condominium Association (2-49 units)

Condominium Association (50-99 units)

Condominium Association (100+ units)

Retail (Up to 9,999 sqft)

Retail (10,000 - 100,000 sqft)

Retail (100,000+ sqft)

Office (Up to 9,999 sqft)

Office (10,000 - 100,000 sqft)

Office (100,000+ sqft)

Warehouse/Distribution (Up to 100,000 sqft)

Warehouse/Distribution (100,000+ sqft)

Light Manufacturing (Up to 100,000 sqft)

Light Manufacturing (100,000+ sqft)

Parking Garage

Biotech/Mission-Critical

Vacation (1-2 units)

Vacation (3+ units)

Other Associations (Hotel, Resort etc.)

Mobile Home Community