Industry experts assess future at conference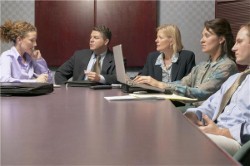 Panelists discussed a number of emerging trends and issues that will affect the rental housing industry at the 2012 National Multi Housing Council Apartment Strategies/Finance Conference.

One of these was the shift in gender among renters. During the recession, many young adults moved back in with family for financial reasons. Data from Fannie Mae indicates this group was largely made up of men, according to Multifamily Executive. The result is that rental managers and landlords currently have more female
tenants
, although the balance is likely to be restored over time.

Along age lines, Generation Y renters are expected to show a preference for Class B properties. When employment decreased during the recession, this age group moved away from top-tier housing in favor of more affordable options. Some experts expect that trend to repeat itself, this time triggered by rent increases and stagnant incomes. Value-add and rehabilitation deals may become more worthwhile as a result.

Other factors that may come into play include rising construction costs and improved availability of financing. While the latter is helping to fuel a surge in rental housing construction, the former could have the opposite effect in time, according to MFE.
Find Property Managers Near You
Select Property Type
Single Home or Condo (Valued up to $300K)

Single Home or Condo ($300K to $500K)

Single Home or Condo ($500K to $1 Million)

Single Home or Condo (Over $1 Million)

Multi-Family (2-4 units)

Multi-Family (5-19 units)

Multi-Family (20-99 units)

Multi-Family (100+ units)

Homeowners Association (2-49 units)

Homeowners Association (50-99 units)

Homeowners Association (100+ units)

Condominium Association (2-49 units)

Condominium Association (50-99 units)

Condominium Association (100+ units)

Retail (Up to 9,999 sqft)

Retail (10,000 - 100,000 sqft)

Retail (100,000+ sqft)

Office (Up to 9,999 sqft)

Office (10,000 - 100,000 sqft)

Office (100,000+ sqft)

Warehouse/Distribution (Up to 100,000 sqft)

Warehouse/Distribution (100,000+ sqft)

Light Manufacturing (Up to 100,000 sqft)

Light Manufacturing (100,000+ sqft)

Parking Garage

Biotech/Mission-Critical

Vacation (1-2 units)

Vacation (3+ units)

Other Associations (Hotel, Resort etc.)

Mobile Home Community