Investors eager to enjoy New York rental appetite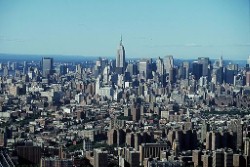 Rental properties in Manhattan grew more expensive to purchase in the first quarter, according to a local firm, with the average sale price up 9 percent for apartments.

At the same time, the number of closings for both cooperatives and condominiums increased 2 percent to 1,800 combined closings during the quarter, Multi-Housing News reports. Prices for apartments, coops and condos all increased by 8 percent or more as the number of sales worth more than $10 million rose 42 percent year-over-year.

While the market is likely very competitive, the data suggest that investors and property management companies who are involved in the area will likely see beneficial business conditions. This may spill over into nearby residential zones as well.

Of the condo closings, 41 percent were new developments, according to MHN. Sales suggest that smaller housing was more popular Downtown, while the East Side saw an opposing trend with larger properties experiencing greater gains in sales prices. Analysts from a local firm told the news source that the city's economic recovery is continuing to outperform projections.
Find Property Managers Near You
Select Property Type
Single Home or Condo (Valued up to $300K)

Single Home or Condo ($300K to $500K)

Single Home or Condo ($500K to $1 Million)

Single Home or Condo (Over $1 Million)

Multi-Family (2-4 units)

Multi-Family (5-19 units)

Multi-Family (20-99 units)

Multi-Family (100+ units)

Homeowners Association (2-49 units)

Homeowners Association (50-99 units)

Homeowners Association (100+ units)

Condominium Association (2-49 units)

Condominium Association (50-99 units)

Condominium Association (100+ units)

Retail (Up to 9,999 sqft)

Retail (10,000 - 100,000 sqft)

Retail (100,000+ sqft)

Office (Up to 9,999 sqft)

Office (10,000 - 100,000 sqft)

Office (100,000+ sqft)

Warehouse/Distribution (Up to 100,000 sqft)

Warehouse/Distribution (100,000+ sqft)

Light Manufacturing (Up to 100,000 sqft)

Light Manufacturing (100,000+ sqft)

Parking Garage

Biotech/Mission-Critical

Vacation (1-2 units)

Vacation (3+ units)

Other Associations (Hotel, Resort etc.)

Mobile Home Community