Job growth may boost rental demand in Vegas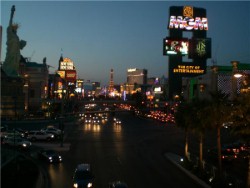 Las Vegas experienced job growth in the third quarter of 2011, according to to Real Capital Analytics, with unemployment dropping to 14.2 percent from 15.5 percent a year earlier.

The firm's data indicates the metro area experienced growth mainly in the service sector, Multi-Housing News reports. Increased employment is expected to fuel a resurgence in development that slowed or halted in recent years, according to the source.

Housing prices continue to fall and single-family occupancy rates are at about 50 percent in the area, according to Colliers International. This situation may create an opportunity for investors to profitably own single-family homes, now that housing demand appears set to increase.

In order to make the most of this opportunity, retaining rental property services may be a wise decision. With high demand and limited supply pushing rents for multifamily units higher in some parts of the metro area and significant job growth expected, the source notes, other factors such as an increase in residential electric meter count support the impression of positive development.
Find Property Managers Near You
Select Property Type
Single Home or Condo (Valued up to $300K)

Single Home or Condo ($300K to $500K)

Single Home or Condo ($500K to $1 Million)

Single Home or Condo (Over $1 Million)

Multi-Family (2-4 units)

Multi-Family (5-19 units)

Multi-Family (20-99 units)

Multi-Family (100+ units)

Homeowners Association (2-49 units)

Homeowners Association (50-99 units)

Homeowners Association (100+ units)

Condominium Association (2-49 units)

Condominium Association (50-99 units)

Condominium Association (100+ units)

Retail (Up to 9,999 sqft)

Retail (10,000 - 100,000 sqft)

Retail (100,000+ sqft)

Office (Up to 9,999 sqft)

Office (10,000 - 100,000 sqft)

Office (100,000+ sqft)

Warehouse/Distribution (Up to 100,000 sqft)

Warehouse/Distribution (100,000+ sqft)

Light Manufacturing (Up to 100,000 sqft)

Light Manufacturing (100,000+ sqft)

Parking Garage

Biotech/Mission-Critical

Vacation (1-2 units)

Vacation (3+ units)

Other Associations (Hotel, Resort etc.)

Mobile Home Community