Kansas a prime market for real estate investment in 2012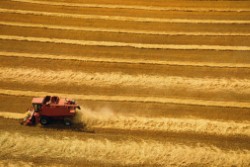 While the nation's housing market is largely expected to improve slowly or hold steady during 2012, MainStreet notes there are some exceptions.

In particular, experts are predicting that Kansas will be a good place for real estate investors to look, due to high crop prices boosting the state's economy. The effect is strong enough that one study pinpointed three of the top five best investor markets in the state.

The "Best Investor Markets for 2012" study by HousingPredictor.com named Wichita, Topeka and Kansas City to the fifth, third and second spots on its list, respectively. Wichita is known to many as "The World's Air Capital" for the aviation-parts and airplane operations there.

Topeka is the largest city in the state, and has a relatively low cost of living that may appeal to many. According to the source, it has a fairly diverse economy that provides a degree of stability. Kansas City, on the other hand, is expected to do better than either of the others in terms of price appreciation. The study projects price gains to reach 4.1, 4.7 and 5.8 percent for Wichita, Topeka and Kansas City, respectively.

The analysts project that high crop prices will be a significant boon to the state as a whole, including those investors and rental managers able to take advantage of the situation. The other cities on the list were Charleston, West Virginia, in fourth and Miami, Florida, in the top spot.
Find Property Managers Near You
Select Property Type
Single Home or Condo (Valued up to $300K)

Single Home or Condo ($300K to $500K)

Single Home or Condo ($500K to $1 Million)

Single Home or Condo (Over $1 Million)

Multi-Family (2-4 units)

Multi-Family (5-19 units)

Multi-Family (20-99 units)

Multi-Family (100+ units)

Homeowners Association (2-49 units)

Homeowners Association (50-99 units)

Homeowners Association (100+ units)

Condominium Association (2-49 units)

Condominium Association (50-99 units)

Condominium Association (100+ units)

Retail (Up to 9,999 sqft)

Retail (10,000 - 100,000 sqft)

Retail (100,000+ sqft)

Office (Up to 9,999 sqft)

Office (10,000 - 100,000 sqft)

Office (100,000+ sqft)

Warehouse/Distribution (Up to 100,000 sqft)

Warehouse/Distribution (100,000+ sqft)

Light Manufacturing (Up to 100,000 sqft)

Light Manufacturing (100,000+ sqft)

Parking Garage

Biotech/Mission-Critical

Vacation (1-2 units)

Vacation (3+ units)

Other Associations (Hotel, Resort etc.)

Mobile Home Community