Landscaping: The Exterior Matters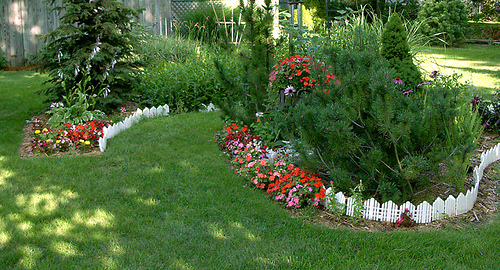 photo credit: Donna Cazadd


Are you trying to sell or rent your home? If so, it is safe to say that you put a lot of time into upgrading the interior and keeping it clean. And while there is nothing wrong with this, you need to make sure that you also keep the exterior of your property in mind.

When it comes down to it, landscaping is important in a big way. When somebody pulls in front of your home what is the first thing that they are going to see? That is right, the landscaping. By giving off a good first impression, potential buyers and/or renters will want to continue to the inside.

Believe it or not, landscaping does not have to cost a lot of money. Money is the main reason that many people ignore the exterior of their home. They think that all extra money should be put on the inside. Of course, this is not true at all.

You can make minor yet important updates to your landscape with only a couple hundred dollars or less. After all, you can do most of the work yourself. In fact, it does not cost any money to cut the grass, trim the bushes, and tidy up here and there. As you move forward, you can spend a few dollars buying flowers and other shrubbery when needed. You may find that all you need to do is clean up your yard a bit in order to give it a fresh, clean look.

The way that you keep your home on the outside will determine what people think about the inside. If you are buying or renting your home, it is important that you stay up to date on your landscape. It is not expensive, especially if you are willing to do most of the work yourself.
Find Property Managers Near You
Select Property Type
Single Home or Condo (Valued up to $300K)

Single Home or Condo ($300K to $500K)

Single Home or Condo ($500K to $1 Million)

Single Home or Condo (Over $1 Million)

Multi-Family (2-4 units)

Multi-Family (5-19 units)

Multi-Family (20-99 units)

Multi-Family (100+ units)

Homeowners Association (2-49 units)

Homeowners Association (50-99 units)

Homeowners Association (100+ units)

Condominium Association (2-49 units)

Condominium Association (50-99 units)

Condominium Association (100+ units)

Retail (Up to 9,999 sqft)

Retail (10,000 - 100,000 sqft)

Retail (100,000+ sqft)

Office (Up to 9,999 sqft)

Office (10,000 - 100,000 sqft)

Office (100,000+ sqft)

Warehouse/Distribution (Up to 100,000 sqft)

Warehouse/Distribution (100,000+ sqft)

Light Manufacturing (Up to 100,000 sqft)

Light Manufacturing (100,000+ sqft)

Parking Garage

Biotech/Mission-Critical

Vacation (1-2 units)

Vacation (3+ units)

Other Associations (Hotel, Resort etc.)

Mobile Home Community