Lawmakers reauthorize NFIP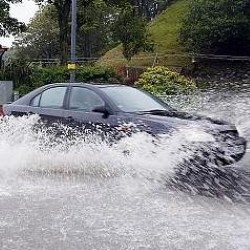 Congress recently approved legislation to extend and reform the National Flood Insurance Program (NFIP) to ensure its continuity through 2017.

Packaged in a bill with provisions concerning transportation and student loans, the extension marks the end of a multi-year trend in which the NFIP was repeatedly extended shortly before expiring or retroactively extended after its expiration. The program lapsed twice, causing a great deal of uncertainty among insurance and real estate industry stakeholders, who urged that lawmakers not allow that to happen again.

Now, the program has been reformed as well as reauthorized, with changes meant to improve the mapping of flood risk zones, discourage construction there and ease efforts to relocate out of risk areas into homes that are more favorably placed. Second homes and certain other properties are no longer eligible for subsidies. Among other effects, these changes are also intended to secure the NFIP's financial position so it stops accruing debt and can begin paying it down.

Investors and rental managers may wish to keep an eye on changes to the flood risk maps and other alterations. In the long-term, the program should be more stable, benefitting those who purchase coverage.

 
Find Property Managers Near You
Select Property Type
Single Home or Condo (Valued up to $300K)

Single Home or Condo ($300K to $500K)

Single Home or Condo ($500K to $1 Million)

Single Home or Condo (Over $1 Million)

Multi-Family (2-4 units)

Multi-Family (5-19 units)

Multi-Family (20-99 units)

Multi-Family (100+ units)

Homeowners Association (2-49 units)

Homeowners Association (50-99 units)

Homeowners Association (100+ units)

Condominium Association (2-49 units)

Condominium Association (50-99 units)

Condominium Association (100+ units)

Retail (Up to 9,999 sqft)

Retail (10,000 - 100,000 sqft)

Retail (100,000+ sqft)

Office (Up to 9,999 sqft)

Office (10,000 - 100,000 sqft)

Office (100,000+ sqft)

Warehouse/Distribution (Up to 100,000 sqft)

Warehouse/Distribution (100,000+ sqft)

Light Manufacturing (Up to 100,000 sqft)

Light Manufacturing (100,000+ sqft)

Parking Garage

Biotech/Mission-Critical

Vacation (1-2 units)

Vacation (3+ units)

Other Associations (Hotel, Resort etc.)

Mobile Home Community