Low vacancies and high rents defy Denver expectations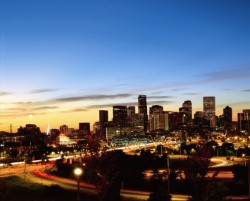 Rental housing vacancies in the
Denver
metro area dropped from 5.5 to 4.9 percent year-over-year, first-quarter data indicates.

That is the second-lowest rate the
Colorado
Division of Housing and the Apartment Association of Metro Denver have recorded since 2001, and the trend is reportedly consistent throughout most of the area. As a result, apartment rents in the region grew 4.5 percent over the same time period, the largest surge the region has seen for a decade. The most recent rent increase that exceeded this one was an 8.7 percent spike in the third quarter of 2001.

Average rents grew from $911 to $952, bucking what report author and real estate professor Ron Throupe noted was a first-quarter trend, in which prices are typically moderated at the beginning of each year. High demand and slow construction rates each contributed to the growth.

Based on the data, area rental managers and investors may be positioned to enjoy a profitable sector for the time being, until either demand slackens or supply grows significantly.
Find Property Managers Near You
Select Property Type
Single Home or Condo (Valued up to $300K)

Single Home or Condo ($300K to $500K)

Single Home or Condo ($500K to $1 Million)

Single Home or Condo (Over $1 Million)

Multi-Family (2-4 units)

Multi-Family (5-19 units)

Multi-Family (20-99 units)

Multi-Family (100+ units)

Homeowners Association (2-49 units)

Homeowners Association (50-99 units)

Homeowners Association (100+ units)

Condominium Association (2-49 units)

Condominium Association (50-99 units)

Condominium Association (100+ units)

Retail (Up to 9,999 sqft)

Retail (10,000 - 100,000 sqft)

Retail (100,000+ sqft)

Office (Up to 9,999 sqft)

Office (10,000 - 100,000 sqft)

Office (100,000+ sqft)

Warehouse/Distribution (Up to 100,000 sqft)

Warehouse/Distribution (100,000+ sqft)

Light Manufacturing (Up to 100,000 sqft)

Light Manufacturing (100,000+ sqft)

Parking Garage

Biotech/Mission-Critical

Vacation (1-2 units)

Vacation (3+ units)

Other Associations (Hotel, Resort etc.)

Mobile Home Community