Many Wall Street investors looking to become landlords, purchase REO properties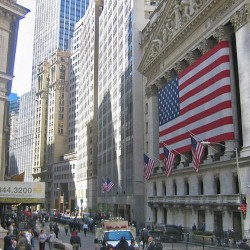 While numerous small-time property investors attempt to snatch up some of Fannie Mae and Freddie Mac's real estate-owned homes, the Wall Street Journal reports many large-scale investors are also looking to become landlords and purchase several of these properties.

One factor that is luring numerous big-time Wall Street investors is the potential for buying bulk amounts of homes for sale from Fannie and Freddie at a discount, according to the newspaper.

Sean Dobson, CEO of Amherst Securities Group, told the WSJ that the firm is moving into real estate ventures because it sees the federal government's REO program as something that could pay considerable dividends.

"We're investing a lot of capital, a lot of time, with the expectation that this is a very small beginning to a very big movement," he told the paper.

Financial services company Credit Suisse, which is advising Fannie on its REO deals, estimates the current supply of REO inventory totals roughly $320 million in value.

Despite major investors' seemingly growing interest in bulk REO sales, the Journal states the government-sponsored enterprises are hesitant to do too many of these deals, as they would likely lose too much money on them.

Many rental management companies would likely be brought in by both small and big investors to operate the day-to-day business at several REO properties.
Find Property Managers Near You
Select Property Type
Single Home or Condo (Valued up to $300K)

Single Home or Condo ($300K to $500K)

Single Home or Condo ($500K to $1 Million)

Single Home or Condo (Over $1 Million)

Multi-Family (2-4 units)

Multi-Family (5-19 units)

Multi-Family (20-99 units)

Multi-Family (100+ units)

Homeowners Association (2-49 units)

Homeowners Association (50-99 units)

Homeowners Association (100+ units)

Condominium Association (2-49 units)

Condominium Association (50-99 units)

Condominium Association (100+ units)

Retail (Up to 9,999 sqft)

Retail (10,000 - 100,000 sqft)

Retail (100,000+ sqft)

Office (Up to 9,999 sqft)

Office (10,000 - 100,000 sqft)

Office (100,000+ sqft)

Warehouse/Distribution (Up to 100,000 sqft)

Warehouse/Distribution (100,000+ sqft)

Light Manufacturing (Up to 100,000 sqft)

Light Manufacturing (100,000+ sqft)

Parking Garage

Biotech/Mission-Critical

Vacation (1-2 units)

Vacation (3+ units)

Other Associations (Hotel, Resort etc.)

Mobile Home Community