Multifamily housing market growing, demand stays strong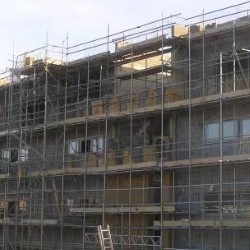 With rental demand increasing, the market for multifamily housing is growing, despite other sectors of the housing market not performing well.

According to a recent TD Economics report, multifamily housing construction is growing across the nation due to increased rental demand. Between 2009 and 2011, new multifamily developments rose 59 percent. Starts of single-family units declined 2 percent over the same period.

The increase in
foreclosures
and stagnant economic conditions are expected to be the main causes of the uptick in multifamily housing developments for rental purposes along the east coast, according to the report.

The market expected to see the biggest increase in multifamily housing construction is the South Atlantic. The multifamily segment there is expected to grow annually at 20 percent over the next five years, followed by the Northeast, which is expected to see 10 percent annual growth.

The multifamily housing market is also being aided by rising rents across the country. According to Zillow, rents rose 1.6 percent from March to April, increasing in 78 percent of markets covered.

Increasing multifamily housing construction should lead to more business for rental property management companies across the country.
Find Property Managers Near You
Select Property Type
Single Home or Condo (Valued up to $300K)

Single Home or Condo ($300K to $500K)

Single Home or Condo ($500K to $1 Million)

Single Home or Condo (Over $1 Million)

Multi-Family (2-4 units)

Multi-Family (5-19 units)

Multi-Family (20-99 units)

Multi-Family (100+ units)

Homeowners Association (2-49 units)

Homeowners Association (50-99 units)

Homeowners Association (100+ units)

Condominium Association (2-49 units)

Condominium Association (50-99 units)

Condominium Association (100+ units)

Retail (Up to 9,999 sqft)

Retail (10,000 - 100,000 sqft)

Retail (100,000+ sqft)

Office (Up to 9,999 sqft)

Office (10,000 - 100,000 sqft)

Office (100,000+ sqft)

Warehouse/Distribution (Up to 100,000 sqft)

Warehouse/Distribution (100,000+ sqft)

Light Manufacturing (Up to 100,000 sqft)

Light Manufacturing (100,000+ sqft)

Parking Garage

Biotech/Mission-Critical

Vacation (1-2 units)

Vacation (3+ units)

Other Associations (Hotel, Resort etc.)

Mobile Home Community