Multifamily REITs Expect Strong 2012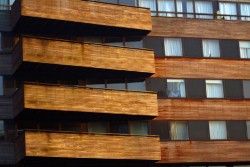 Moody's Investors Service indicates that multifamily sector real estate investment trusts are looking forward to a strong performance in 2012, according to Multi-Housing News.

According to the source, analysts see positive fundamentals and expect a stable rating outlook for the year. This reflects the consistent demand for rental properties that consumers are projected to demonstrate.

Moody's Investors Service stated multifamily REITs are well-placed to weather an economic downturn, compared to how they were in 2008. The report states that apartment landlords are expected to find the economic environment favorable, as household creation and employment growth contribute to demand.

Mixed feelings and low sentiment with regards to homeownership means that those new households are choosing to rent homes in increasing numbers. The analysts noted that, while the employment picture remains weak, it is stronger than it was a year ago. On top of that, the source notes, analysts expect that new construction will be limited enough to allow further rent growth, making existing rentals more profitable.
Find Property Managers Near You
Select Property Type
Single Home or Condo (Valued up to $300K)

Single Home or Condo ($300K to $500K)

Single Home or Condo ($500K to $1 Million)

Single Home or Condo (Over $1 Million)

Multi-Family (2-4 units)

Multi-Family (5-19 units)

Multi-Family (20-99 units)

Multi-Family (100+ units)

Homeowners Association (2-49 units)

Homeowners Association (50-99 units)

Homeowners Association (100+ units)

Condominium Association (2-49 units)

Condominium Association (50-99 units)

Condominium Association (100+ units)

Retail (Up to 9,999 sqft)

Retail (10,000 - 100,000 sqft)

Retail (100,000+ sqft)

Office (Up to 9,999 sqft)

Office (10,000 - 100,000 sqft)

Office (100,000+ sqft)

Warehouse/Distribution (Up to 100,000 sqft)

Warehouse/Distribution (100,000+ sqft)

Light Manufacturing (Up to 100,000 sqft)

Light Manufacturing (100,000+ sqft)

Parking Garage

Biotech/Mission-Critical

Vacation (1-2 units)

Vacation (3+ units)

Other Associations (Hotel, Resort etc.)

Mobile Home Community