New and old investor activity driving prices high in New York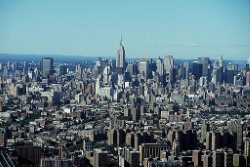 Sales of rental properties in New York dropped during the beginning of 2012, but high interest among international investors pushed prices higher due to the competition.

Many properties are receiving multiple qualifying bids, according to GlobeSt.com. Manhattan and Brooklyn have posted the highest sales figures despite limited supply. Many owners have reported receiving greater prices than they initially asked, as rental managers and owners see high occupancy, with many Americans coming to the metro area in search of employment.

A number of owners are choosing not to sell despite the high prices because they believe that alternative investments are underperforming the real estate rental sector, making it wiser to hold on to their assets. The imbalance between supply and demand is impacting sector fundamentals and capitalization rates strongly, analysts told the news source.

Business is picking up among high-net-worth individuals and local families which have played a role in the market in the past. Some of these parties withdrew in previous years and are now returning to the real estate industry, while others are first-time buyers. The news source notes that a significant number of closings may take place in the second quarter, meaning the impact of first-quarter trends could be delayed.
Find Property Managers Near You
Select Property Type
Single Home or Condo (Valued up to $300K)

Single Home or Condo ($300K to $500K)

Single Home or Condo ($500K to $1 Million)

Single Home or Condo (Over $1 Million)

Multi-Family (2-4 units)

Multi-Family (5-19 units)

Multi-Family (20-99 units)

Multi-Family (100+ units)

Homeowners Association (2-49 units)

Homeowners Association (50-99 units)

Homeowners Association (100+ units)

Condominium Association (2-49 units)

Condominium Association (50-99 units)

Condominium Association (100+ units)

Retail (Up to 9,999 sqft)

Retail (10,000 - 100,000 sqft)

Retail (100,000+ sqft)

Office (Up to 9,999 sqft)

Office (10,000 - 100,000 sqft)

Office (100,000+ sqft)

Warehouse/Distribution (Up to 100,000 sqft)

Warehouse/Distribution (100,000+ sqft)

Light Manufacturing (Up to 100,000 sqft)

Light Manufacturing (100,000+ sqft)

Parking Garage

Biotech/Mission-Critical

Vacation (1-2 units)

Vacation (3+ units)

Other Associations (Hotel, Resort etc.)

Mobile Home Community