New York, especially Manhattan, sees rental housing filled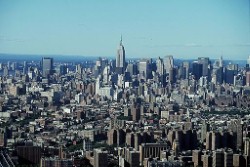 The supply of rental housing in the New York metro area, particularly Manhattan, is sharply limited by the lack of property available for the development of new units.

In addition to limited space, the slow pace of economic growth has also contributed to slow increases in supply, according to CitiHabitats. The current trend that favors renting over homeownership is rendering those factors even more pronounced, and led to a rental housing vacancy rate of about 1.2 percent in Manhattan during the first quarter.

Market conditions drove average rents up by 3.4 percent from January to March, with the city posting annual employment growth of 1.9 percent in April. Many have flocked to the metro as a reliable center of economic activity in the slow post-recession years, straining the available housing resources in some submarkets.

Vacancies are likely to stay low for some time, as Marcus & Millichap reports that actual development is slow, with only 6,300 new market rate apartments expected to reach completion before the end of 2012. This is despite the issuance of more than 20,000 permits, demonstrating the disparity between interest and actual construction. These conditions may lead to further rent growth, though limited incomes could stifle that. At the very least, rental managers should see demand remain high,, if not grow further.
Find Property Managers Near You
Select Property Type
Single Home or Condo (Valued up to $300K)

Single Home or Condo ($300K to $500K)

Single Home or Condo ($500K to $1 Million)

Single Home or Condo (Over $1 Million)

Multi-Family (2-4 units)

Multi-Family (5-19 units)

Multi-Family (20-99 units)

Multi-Family (100+ units)

Homeowners Association (2-49 units)

Homeowners Association (50-99 units)

Homeowners Association (100+ units)

Condominium Association (2-49 units)

Condominium Association (50-99 units)

Condominium Association (100+ units)

Retail (Up to 9,999 sqft)

Retail (10,000 - 100,000 sqft)

Retail (100,000+ sqft)

Office (Up to 9,999 sqft)

Office (10,000 - 100,000 sqft)

Office (100,000+ sqft)

Warehouse/Distribution (Up to 100,000 sqft)

Warehouse/Distribution (100,000+ sqft)

Light Manufacturing (Up to 100,000 sqft)

Light Manufacturing (100,000+ sqft)

Parking Garage

Biotech/Mission-Critical

Vacation (1-2 units)

Vacation (3+ units)

Other Associations (Hotel, Resort etc.)

Mobile Home Community