New York tops London, Tokyo for top commercial market in 2011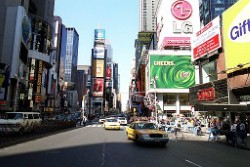 By the end of 2011, it was a major North American city, not one in Europe or Asia, that was noted as the top commercial real estate market in the world, according to a report, thanks in large part to a considerably strong apartment sector.

The report, by real estate services firm Cushman & Wakefield, indicates New York City beat out London and Tokyo as the premier CRE market in the world last year. Slightly more than $28 billion was invested in the Big Apple during the year.

Including NYC, Greg Vorwaller, global head of capital markets for C&W, stated the biggest markets in the U.S. saw the most activity in 2011.

"Consistent with what we saw globally, there was a flight to quality in the Americas with investors focusing on best-in-class assets in flagship markets (New York, Washington, D.C., San Francisco, Boston, Los Angeles and Chicago)," he said.

In total, $53.6 billion was put into multifamily property investment in the Americas, making up a substantial portion of the $235.7 billion in CRE investment during the year.

The news of a continually growing multifamily market in many areas around the country could yield significant returns for rental management companies.
Find Property Managers Near You
Select Property Type
Single Home or Condo (Valued up to $300K)

Single Home or Condo ($300K to $500K)

Single Home or Condo ($500K to $1 Million)

Single Home or Condo (Over $1 Million)

Multi-Family (2-4 units)

Multi-Family (5-19 units)

Multi-Family (20-99 units)

Multi-Family (100+ units)

Homeowners Association (2-49 units)

Homeowners Association (50-99 units)

Homeowners Association (100+ units)

Condominium Association (2-49 units)

Condominium Association (50-99 units)

Condominium Association (100+ units)

Retail (Up to 9,999 sqft)

Retail (10,000 - 100,000 sqft)

Retail (100,000+ sqft)

Office (Up to 9,999 sqft)

Office (10,000 - 100,000 sqft)

Office (100,000+ sqft)

Warehouse/Distribution (Up to 100,000 sqft)

Warehouse/Distribution (100,000+ sqft)

Light Manufacturing (Up to 100,000 sqft)

Light Manufacturing (100,000+ sqft)

Parking Garage

Biotech/Mission-Critical

Vacation (1-2 units)

Vacation (3+ units)

Other Associations (Hotel, Resort etc.)

Mobile Home Community