Office of Planning moves toward environmental, zoning regulation changes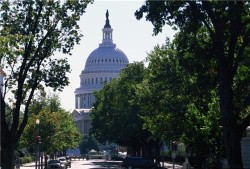 Many rental properties in
Washington, D.C.
may need to follow new regulations, dedicating space to landscaping or permeable surfaces. Local authorities are concerned with sustainability, including concerns about stormwater drainage.

The changes are also meant to combat the urban heat island effect and enhance air quality, Multifamily Executive reports. The proposal, put forward by the city's Office of Planning, is based on a program implemented in
Seattle
and similar regulations in some European cities. The specific regulations may vary somewhat depending on zoning and other concerns.

Representatives from the Office of Planning told the news source that developers should not experience substantial cost increases in their work. Some real estate experts noted concerns that the changes could be more costly than expected, and that
rental managers
, owners and developers could end up passing the cost to tenants.

Washington, D.C. may be the second in a long line of markets to adopt similar regulatory changes, according to Urban Land Institute senior vice president Uwe Brandes. Many urban areas are becoming more concerned with stormwater drainage, he told MFE, and zoning code are being increasingly linked to sustainability and environmental issues.
Find Property Managers Near You
Select Property Type
Single Home or Condo (Valued up to $300K)

Single Home or Condo ($300K to $500K)

Single Home or Condo ($500K to $1 Million)

Single Home or Condo (Over $1 Million)

Multi-Family (2-4 units)

Multi-Family (5-19 units)

Multi-Family (20-99 units)

Multi-Family (100+ units)

Homeowners Association (2-49 units)

Homeowners Association (50-99 units)

Homeowners Association (100+ units)

Condominium Association (2-49 units)

Condominium Association (50-99 units)

Condominium Association (100+ units)

Retail (Up to 9,999 sqft)

Retail (10,000 - 100,000 sqft)

Retail (100,000+ sqft)

Office (Up to 9,999 sqft)

Office (10,000 - 100,000 sqft)

Office (100,000+ sqft)

Warehouse/Distribution (Up to 100,000 sqft)

Warehouse/Distribution (100,000+ sqft)

Light Manufacturing (Up to 100,000 sqft)

Light Manufacturing (100,000+ sqft)

Parking Garage

Biotech/Mission-Critical

Vacation (1-2 units)

Vacation (3+ units)

Other Associations (Hotel, Resort etc.)

Mobile Home Community