Protect your Rental Property through Regular Maintenance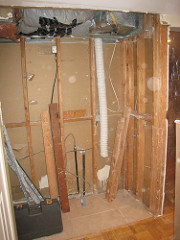 photo credit: Minnaert
One of the best ways to protect your rental property and tenants is through regular maintenance. This is something that many rental property owners neglect because they are too lazy or busy to do so. While you may be able to get away with this for a while, you never know when a small problem that could be prevented through regular maintenance will turn into something much more serious.


Even though regular maintenance checks and repairs can take time and money, it is important to remember that this is not ?all for nothing.? When you go through maintenance checks every so often you are going to turn up issues that need fixed, as well as those that you should just keep an eye on for the time being.

Remember, it is important to keep your tenants safe and your property in good condition. When you keep your tenants safe you do not have to worry about them complaining too much or slapping you with a lawsuit. And of course, a property that is in good condition is one that will cost less in the long run while holding a higher value.

Once you get on a schedule of regular property maintenance you will be able to follow it month after month. You may be surprised at just how many benefits regular maintenance can bring you, your tenants, and your property.
Find Property Managers Near You
Select Property Type
Single Home or Condo (Valued up to $300K)

Single Home or Condo ($300K to $500K)

Single Home or Condo ($500K to $1 Million)

Single Home or Condo (Over $1 Million)

Multi-Family (2-4 units)

Multi-Family (5-19 units)

Multi-Family (20-99 units)

Multi-Family (100+ units)

Homeowners Association (2-49 units)

Homeowners Association (50-99 units)

Homeowners Association (100+ units)

Condominium Association (2-49 units)

Condominium Association (50-99 units)

Condominium Association (100+ units)

Retail (Up to 9,999 sqft)

Retail (10,000 - 100,000 sqft)

Retail (100,000+ sqft)

Office (Up to 9,999 sqft)

Office (10,000 - 100,000 sqft)

Office (100,000+ sqft)

Warehouse/Distribution (Up to 100,000 sqft)

Warehouse/Distribution (100,000+ sqft)

Light Manufacturing (Up to 100,000 sqft)

Light Manufacturing (100,000+ sqft)

Parking Garage

Biotech/Mission-Critical

Vacation (1-2 units)

Vacation (3+ units)

Other Associations (Hotel, Resort etc.)

Mobile Home Community