Rent growth may slow as housing supply grows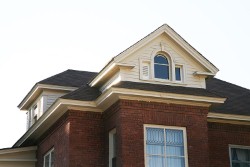 Property management companies and landlords may find themselves accepting lower rents in the coming months as they seek to fill units.

This is because a substantial number of new properties are expected to reach completion and become available. That could take some time, however, as demand remains high. In particular, young adults are forming many new households as pent-up demand from recent years is released, MPF Research reports. They typically rent and have accounted for a large proportion of job growth recently, feeding rental housing demand more than usual.

"There's no question that pricing momentum now isn't quite where it was a few months ago," said Greg Willett, vice president at MPF Research. "For many owners and operators, the soft patch seen in job production has raised concerns that apartment demand could prove sluggish during the last half of the year."

Overall, effective rent growth slowed down during the second quarter of this year, although it remains faster than long-term norms. Quarterly effective rent growth was 1.2 percent, compared to 4 percent annually. The annual rate of growth was 4.8 percent at the end of last year. Occupancy has also risen, from 94.9 to 95.2 percent. In mid-2011, it was only 94.4 percent.
Find Property Managers Near You
Select Property Type
Single Home or Condo (Valued up to $300K)

Single Home or Condo ($300K to $500K)

Single Home or Condo ($500K to $1 Million)

Single Home or Condo (Over $1 Million)

Multi-Family (2-4 units)

Multi-Family (5-19 units)

Multi-Family (20-99 units)

Multi-Family (100+ units)

Homeowners Association (2-49 units)

Homeowners Association (50-99 units)

Homeowners Association (100+ units)

Condominium Association (2-49 units)

Condominium Association (50-99 units)

Condominium Association (100+ units)

Retail (Up to 9,999 sqft)

Retail (10,000 - 100,000 sqft)

Retail (100,000+ sqft)

Office (Up to 9,999 sqft)

Office (10,000 - 100,000 sqft)

Office (100,000+ sqft)

Warehouse/Distribution (Up to 100,000 sqft)

Warehouse/Distribution (100,000+ sqft)

Light Manufacturing (Up to 100,000 sqft)

Light Manufacturing (100,000+ sqft)

Parking Garage

Biotech/Mission-Critical

Vacation (1-2 units)

Vacation (3+ units)

Other Associations (Hotel, Resort etc.)

Mobile Home Community