Rental window open, executives indicate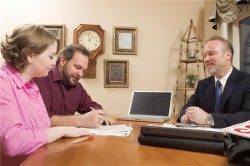 According to Multifamily Executive, participants at the recent National Multi Housing Council (NMHC) Annual Conference were looking forward to a window of opportunity this year and possibly beyond.

Property management companies will likely be busy in the near future if they are right, given predictions of further construction and rent growth in the face of national demand. According to the source, one market researcher noted that economic fundamentals indicate access to credit and consumer confidence are improving.

This may allow more Americans to pursue housing at a time when industry executives and experts have noted more people are choosing to rent than in past years.

Holland Partner Group CEO Clyde Holland reported projections that construction and land costs will increase and reach historical norms by 2014, which would slow the pace of construction. Experts expect it to begin slowing sooner, however, because the number of projects in the works is already beginning to meet demand.

Overall, executives were looking forward to a good year in 2012, anticipating some rent increases and strong business throughout the year.

 
Find Property Managers Near You
Select Property Type
Single Home or Condo (Valued up to $300K)

Single Home or Condo ($300K to $500K)

Single Home or Condo ($500K to $1 Million)

Single Home or Condo (Over $1 Million)

Multi-Family (2-4 units)

Multi-Family (5-19 units)

Multi-Family (20-99 units)

Multi-Family (100+ units)

Homeowners Association (2-49 units)

Homeowners Association (50-99 units)

Homeowners Association (100+ units)

Condominium Association (2-49 units)

Condominium Association (50-99 units)

Condominium Association (100+ units)

Retail (Up to 9,999 sqft)

Retail (10,000 - 100,000 sqft)

Retail (100,000+ sqft)

Office (Up to 9,999 sqft)

Office (10,000 - 100,000 sqft)

Office (100,000+ sqft)

Warehouse/Distribution (Up to 100,000 sqft)

Warehouse/Distribution (100,000+ sqft)

Light Manufacturing (Up to 100,000 sqft)

Light Manufacturing (100,000+ sqft)

Parking Garage

Biotech/Mission-Critical

Vacation (1-2 units)

Vacation (3+ units)

Other Associations (Hotel, Resort etc.)

Mobile Home Community