Renter residents flock to Long Island City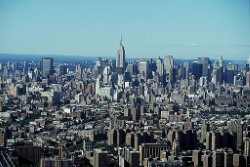 Multi-Housing News reports that Long Island City has attracted enough residents in the past six or seven months to decrease the area apartment vacancy rate from 3.5 to 2 percent, according to a report from brokerage and marketing firm Modern Spaces.

Many of the new residents are first-timers, according to the report. Modern Spaces president Eric Benaim told the source that residents weer likely drawn by the variety of cultural attractions and restaurants, noting that the neighborhood hosts many galleries and museums.

The report suggests that the location is also good for many commuters, suggesting short travel times to get to work from the area are an appealing characteristic for the neighborhood's new renters.

Additional rental properties are planned to open in the near future, while a number of businesses have opened in recent years to meet residents' needs. Similarly commuter-friendly areas may be strong investment opportunities, especially with the help of property management companies in operating a rental residence.

Overall, the report indicates 2011 was a good year for the area, partly due to the rising rents in other parts of the city.
Find Property Managers Near You
Select Property Type
Single Home or Condo (Valued up to $300K)

Single Home or Condo ($300K to $500K)

Single Home or Condo ($500K to $1 Million)

Single Home or Condo (Over $1 Million)

Multi-Family (2-4 units)

Multi-Family (5-19 units)

Multi-Family (20-99 units)

Multi-Family (100+ units)

Homeowners Association (2-49 units)

Homeowners Association (50-99 units)

Homeowners Association (100+ units)

Condominium Association (2-49 units)

Condominium Association (50-99 units)

Condominium Association (100+ units)

Retail (Up to 9,999 sqft)

Retail (10,000 - 100,000 sqft)

Retail (100,000+ sqft)

Office (Up to 9,999 sqft)

Office (10,000 - 100,000 sqft)

Office (100,000+ sqft)

Warehouse/Distribution (Up to 100,000 sqft)

Warehouse/Distribution (100,000+ sqft)

Light Manufacturing (Up to 100,000 sqft)

Light Manufacturing (100,000+ sqft)

Parking Garage

Biotech/Mission-Critical

Vacation (1-2 units)

Vacation (3+ units)

Other Associations (Hotel, Resort etc.)

Mobile Home Community