Report: LA rental market defined by slipping incomes, substantial property choices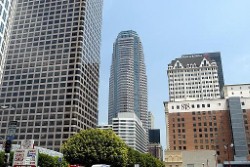 Property managers and apartment owners in metro Los Angeles are likely seeing two main trends in the area's rental market, according to a report by The Economic Roundtable.

The nonprofit's findings indicate there has been an 8 percent rise in the city's housing inventory since 2007, with many of these added properties converted to rental units to meet the considerable local demand.

However, the report shows dwindling household incomes are keeping many residents from even being able to afford a number of these units, despite rents remaining relatively even during the past few years.

In the decade ending in 2010, the median rent as part of the median household income rose from 29 to 36 percent, indicating numerous LA residents are spending more of their money on housing. A bright spot for the local rental sector is a marked reduction in severe overcrowding at rental properties.

A different source states growth in employment in the Los Angeles area could lead to more demand for rentals. Coupled with lower projected construction of these properties this year, Marcus & Millichap reports property managers and landlords are expected to raise rents nearly 2 percent from a year earlier.
Find Property Managers Near You
Select Property Type
Single Home or Condo (Valued up to $300K)

Single Home or Condo ($300K to $500K)

Single Home or Condo ($500K to $1 Million)

Single Home or Condo (Over $1 Million)

Multi-Family (2-4 units)

Multi-Family (5-19 units)

Multi-Family (20-99 units)

Multi-Family (100+ units)

Homeowners Association (2-49 units)

Homeowners Association (50-99 units)

Homeowners Association (100+ units)

Condominium Association (2-49 units)

Condominium Association (50-99 units)

Condominium Association (100+ units)

Retail (Up to 9,999 sqft)

Retail (10,000 - 100,000 sqft)

Retail (100,000+ sqft)

Office (Up to 9,999 sqft)

Office (10,000 - 100,000 sqft)

Office (100,000+ sqft)

Warehouse/Distribution (Up to 100,000 sqft)

Warehouse/Distribution (100,000+ sqft)

Light Manufacturing (Up to 100,000 sqft)

Light Manufacturing (100,000+ sqft)

Parking Garage

Biotech/Mission-Critical

Vacation (1-2 units)

Vacation (3+ units)

Other Associations (Hotel, Resort etc.)

Mobile Home Community