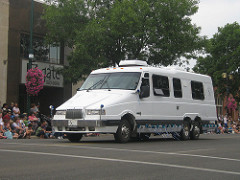 Living in an RV, or recreational vehicle, isn't the typical solution when it comes to inexpensive living but it does have its advantages and could be the solution for you. RV's run the gamut in expense so you'll need to decide your price range before you begin and like automobiles, they depreciate drastically the minute you take them off the lot so you may want to think about purchasing a slightly used RV.? The upside here is the interest is tax deductible.

You'll need to find a campground that offers year round amenities and then check out what the rent will be for the space including utilities and water.

One of the great benefits of living in an RV is the people you'll meet. Some will be long term residents like you but others will be travelers coming from all over the country, it's a remarkable opportunity to learn more about the world around you and the people in it.

And one of the best parts about living in an RV is you're packed and ready to go for any vacation. No matter where you go you'll always have everything you need without the worries of what you left behind. Not to mention all you'll save on expensive hotels and overpriced restaurants.


photo credit: dave_7
Find Property Managers Near You
Select Property Type
Single Home or Condo (Valued up to $300K)

Single Home or Condo ($300K to $500K)

Single Home or Condo ($500K to $1 Million)

Single Home or Condo (Over $1 Million)

Multi-Family (2-4 units)

Multi-Family (5-19 units)

Multi-Family (20-99 units)

Multi-Family (100+ units)

Homeowners Association (2-49 units)

Homeowners Association (50-99 units)

Homeowners Association (100+ units)

Condominium Association (2-49 units)

Condominium Association (50-99 units)

Condominium Association (100+ units)

Retail (Up to 9,999 sqft)

Retail (10,000 - 100,000 sqft)

Retail (100,000+ sqft)

Office (Up to 9,999 sqft)

Office (10,000 - 100,000 sqft)

Office (100,000+ sqft)

Warehouse/Distribution (Up to 100,000 sqft)

Warehouse/Distribution (100,000+ sqft)

Light Manufacturing (Up to 100,000 sqft)

Light Manufacturing (100,000+ sqft)

Parking Garage

Biotech/Mission-Critical

Vacation (1-2 units)

Vacation (3+ units)

Other Associations (Hotel, Resort etc.)

Mobile Home Community