San Diego housing market vacancy rates stabilizing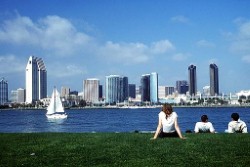 The vacancy rate of rental housing in San Diego County has increased since the fall, growing from 4.3 to 4.5 percent.

Data from the San Diego County Apartment Association shows that this remain in the middle-ground between post-recession high and low levels of 5.4 and 3.6 percent, respectively, according to U-T San Diego. The organization indicated that this represents the market achieving a more balanced state in the wake of post-recession volatility.

Demand for rental properties is expected to hold fairly steady, although there are some differences between localities. San Diego itself has the lowest vacancy rate at 3.4 percent, while the county's highest stands at 5.6 percent. The data is based on a survey of rental managers in the area.

Stabilizing vacancy rates likely mean demand for housing, both rental and otherwise, is reaching an equilibrium. It may become less volatile in the near future unless further developments in the area job market or national trends have an impact on demand and supply. The organization noted that rental demand is slightly high, suggesting that some rent growth might be a possibility. Investors should remain poised to act on any future developments.

 
Find Property Managers Near You
Select Property Type
Single Home or Condo (Valued up to $300K)

Single Home or Condo ($300K to $500K)

Single Home or Condo ($500K to $1 Million)

Single Home or Condo (Over $1 Million)

Multi-Family (2-4 units)

Multi-Family (5-19 units)

Multi-Family (20-99 units)

Multi-Family (100+ units)

Homeowners Association (2-49 units)

Homeowners Association (50-99 units)

Homeowners Association (100+ units)

Condominium Association (2-49 units)

Condominium Association (50-99 units)

Condominium Association (100+ units)

Retail (Up to 9,999 sqft)

Retail (10,000 - 100,000 sqft)

Retail (100,000+ sqft)

Office (Up to 9,999 sqft)

Office (10,000 - 100,000 sqft)

Office (100,000+ sqft)

Warehouse/Distribution (Up to 100,000 sqft)

Warehouse/Distribution (100,000+ sqft)

Light Manufacturing (Up to 100,000 sqft)

Light Manufacturing (100,000+ sqft)

Parking Garage

Biotech/Mission-Critical

Vacation (1-2 units)

Vacation (3+ units)

Other Associations (Hotel, Resort etc.)

Mobile Home Community