Study: Some major markets still better for renting than buying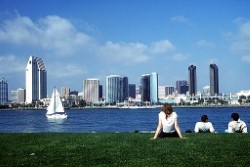 Several
California
housing markets, along with a number of other major metros nationwide, remain better areas to rent homes than to purchase them, according to a study by Trulia.

The report by the real estate information company reveals Honolulu has the nation's highest price-to-rent ratio at 17, meaning leasing properties in the city is more affordable than buying. Other markets where renting is the less-expensive option include
San Francisco
,
New York City
and
San Diego
.

Though the study also showed that purchasing homes for sale is more affordable than leasing in 98 of the country's 100-biggest metros, the rental market in several cities remains the better financial option for many Americans.

Jed Kolko, chief economist for Trulia, noted that numerous consumers will pay a considerable amount to purchase homes if the area they buy in is expected to see strong economic conditions in the future.

However, with the future of the U.S. economy still uncertain amid mixed jobs and housing data, a number of residents may continue to turn to leasing.
Property managers
, in turn, will likely see demand remain substantial in several markets nationwide.
Find Property Managers Near You
Select Property Type
Single Home or Condo (Valued up to $300K)

Single Home or Condo ($300K to $500K)

Single Home or Condo ($500K to $1 Million)

Single Home or Condo (Over $1 Million)

Multi-Family (2-4 units)

Multi-Family (5-19 units)

Multi-Family (20-99 units)

Multi-Family (100+ units)

Homeowners Association (2-49 units)

Homeowners Association (50-99 units)

Homeowners Association (100+ units)

Condominium Association (2-49 units)

Condominium Association (50-99 units)

Condominium Association (100+ units)

Retail (Up to 9,999 sqft)

Retail (10,000 - 100,000 sqft)

Retail (100,000+ sqft)

Office (Up to 9,999 sqft)

Office (10,000 - 100,000 sqft)

Office (100,000+ sqft)

Warehouse/Distribution (Up to 100,000 sqft)

Warehouse/Distribution (100,000+ sqft)

Light Manufacturing (Up to 100,000 sqft)

Light Manufacturing (100,000+ sqft)

Parking Garage

Biotech/Mission-Critical

Vacation (1-2 units)

Vacation (3+ units)

Other Associations (Hotel, Resort etc.)

Mobile Home Community