Study: Students, parents cite rents, security as primary determinants for housing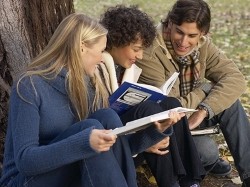 In terms of what they prefer to see in college housing, students and parents appear to be most concerned with price and security, according to a study conducted by the National Apartment Association and J Turner Research.

The survey of nearly 12,000 students and more than 3,600 parents indicates modern student housing preferences remain similar to those of years past.

For example, when asked what determinant tops them all when selecting housing, the most prevalent answer, selected by 35 percent of students, was that rents were the main factor in choosing an apartment. Roughly one-third of parents surveyed, meanwhile, chose security as the main determinant for their child's school dwelling.

Additionally, the study found private bedrooms topped students' and parents' lists of what they would most like to have in a unit, followed by in-house laundry units and large bedrooms.

"Clearly the power of referral is driving leasing decisions in student housing, and student housing professionals can certainly benefit by proactively delivering the amenities and customer service levels that translate to community recommendations," said J Turner Research president Joseph Batdorf.

Rental managers looking to attract more students to their properties may want to invest in modifications to their units based on these preferences.
Find Property Managers Near You
Select Property Type
Single Home or Condo (Valued up to $300K)

Single Home or Condo ($300K to $500K)

Single Home or Condo ($500K to $1 Million)

Single Home or Condo (Over $1 Million)

Multi-Family (2-4 units)

Multi-Family (5-19 units)

Multi-Family (20-99 units)

Multi-Family (100+ units)

Homeowners Association (2-49 units)

Homeowners Association (50-99 units)

Homeowners Association (100+ units)

Condominium Association (2-49 units)

Condominium Association (50-99 units)

Condominium Association (100+ units)

Retail (Up to 9,999 sqft)

Retail (10,000 - 100,000 sqft)

Retail (100,000+ sqft)

Office (Up to 9,999 sqft)

Office (10,000 - 100,000 sqft)

Office (100,000+ sqft)

Warehouse/Distribution (Up to 100,000 sqft)

Warehouse/Distribution (100,000+ sqft)

Light Manufacturing (Up to 100,000 sqft)

Light Manufacturing (100,000+ sqft)

Parking Garage

Biotech/Mission-Critical

Vacation (1-2 units)

Vacation (3+ units)

Other Associations (Hotel, Resort etc.)

Mobile Home Community