Survey indicates consumers expect rents to continue to hike this year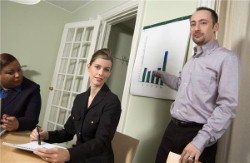 Among the various economic and housing questions posed to respondents of Fannie Mae's most recent survey, some involved the future of the rental market, and many of those surveyed forecasted continually growing rents nationwide through the end of 2012.

According to Fannie Mae's 2012 National Housing Survey for February, respondents predicted an average increase in rents of 3.5 percent through the same month next year - a modest rise from the percentage from January.

In total, 45 percent of those surveyed stated they think rental rates will spike during the 12-month period, while only 3 percent expect them to dip during that span.

While leasing has been considerably more popular than buying in recent years, the survey shows roughly two-thirds of respondents would buy their next home instead of rent. Only 29 percent said they would lease.

Despite this preference, rental managers can expect another strong year in 2012. The jobs market is picking up, as the Department of Labor noted more than 450,000 jobs have been created in the first two months of the year.

With lending standards still tight among numerous lenders across the U.S., several housing experts foresee continually improving apartment market figures across the board through December.
Find Property Managers Near You
Select Property Type
Single Home or Condo (Valued up to $300K)

Single Home or Condo ($300K to $500K)

Single Home or Condo ($500K to $1 Million)

Single Home or Condo (Over $1 Million)

Multi-Family (2-4 units)

Multi-Family (5-19 units)

Multi-Family (20-99 units)

Multi-Family (100+ units)

Homeowners Association (2-49 units)

Homeowners Association (50-99 units)

Homeowners Association (100+ units)

Condominium Association (2-49 units)

Condominium Association (50-99 units)

Condominium Association (100+ units)

Retail (Up to 9,999 sqft)

Retail (10,000 - 100,000 sqft)

Retail (100,000+ sqft)

Office (Up to 9,999 sqft)

Office (10,000 - 100,000 sqft)

Office (100,000+ sqft)

Warehouse/Distribution (Up to 100,000 sqft)

Warehouse/Distribution (100,000+ sqft)

Light Manufacturing (Up to 100,000 sqft)

Light Manufacturing (100,000+ sqft)

Parking Garage

Biotech/Mission-Critical

Vacation (1-2 units)

Vacation (3+ units)

Other Associations (Hotel, Resort etc.)

Mobile Home Community