When we spoke with AppFolio, it surprised us to hear them say a team of property managers celebrated their one-year AppFolio anniversary. Well, seeing is believing because we received a picture of three property managers holding a cake with "Happy Anniversary Appfolio," written in blue frosting. AppFolio is web based property management software. Features include online rent collection, vacancy postings, accounting and online applications. We spoke to Ursula Shekufendeh and Tara Armbruster from AppFolio in California to learn more about the property management software.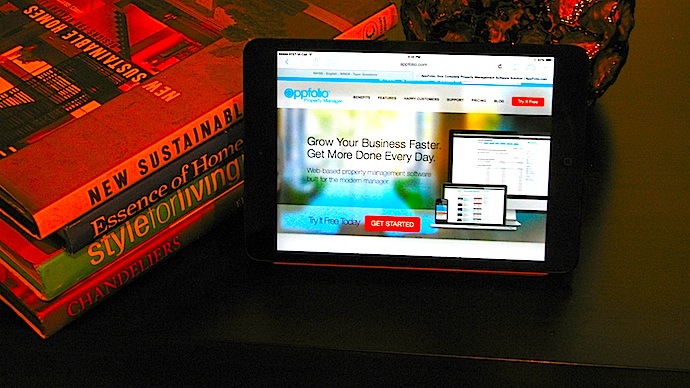 APM
: If you two could describe AppFolio, just an overview of what the product does.


Ursula
:
We aim to become a one- stop shop for property managers to manage their units. We handle the process to market a vacancy to find new tenants, to screen those tenants to ensure a good fit, the move to the unit. We also manage the payment process for tenants to make their payments online. Property managers oversee all this. There is also the accounting piece; the property manager pays the bills on behalf of the owner. AppFolio has the maintenance component too. The property managers also services requests or work that needs to be done on the property. To sum it up, AppFolio helps manage the marketing, accounting, and management pieces.
APM
: Is that what you think makes your product stand out? Is that it's a one- stop shop?


Ursula
:
Yeah, absolutely. The other difference is that it is online-based with all the features build-in. The information is accessible from anywhere, as opposed to integrating with third party services, which can bring in a lot of issues.
We build everything in-house, so that we can ensure that the system is reliable and available. Another difference is that we have a very good track record of availability and reliability of the site, compared to other solutions out there.
APM
: Can you pick a specific feature that stands out to you or something that you heard a lot about?


Ursula
:
In terms of time-saving, I would say the online payment piece is very important to property managers. Without the online piece, the first week of the month is a very stressful time for property managers. All the rent checks come in. Property managers record that information, manually type it their accounting system, and make a trip to the bank to deposits and reconcile the checks. AppFolio can do all of this. We offer online ACH payments for free, so the tenant doesn't pay any transaction cost when they make a payment. As a result, our customers see double the adoption rate on online payments.The property manager doesn't have to pay anything. We eat those costs. That's to ensure that both the tenants and property managers adopt the feature.
APM
: If we asked your top three customers to describe your product, what do you think they would say?


Ursula
:
There are a lot of testimonials on our website. Our recurring theme, and you can correct me if I'm wrong, is that we're a big time saver for their company.We know a lot of our customers started another company because they put their property management company on autopilot. They've been able to grow the number of units they manage, without increasing their staff. Less staff to hire is a recurring theme.
APM
: Do you have a specific memorable moment where you spoke with the customer? Or Tara did something that they say that stood out to you?


Tara
: I feel like we have a lot of happy customers. However, we just had a customer who hit their one- year anniversary with AppFolio. They actually baked a cake and wrote, "One Year Anniversary with AppFolio," and held a little party in their office to commemorate the first year anniversary of AppFolio because they just loved it so much. They actually sent us pictures of them, having a little AppFolio anniversary party.
Ursula
:
There are several stories like that. Customers created T-shirts with the AppFolio logo, and distributed the shirts within their company. We're inundated with happy customer feedback.
APM
: Would you feel comfortable sending us the one- year picture?


Tara
:
Sure!
APM
: We would love to see that. That is really great. I've never really thought about throwing a party for software that I use. I think that does say a lot!

[laughter]


APM
: Of all the things to throw a party for! [laughs] Is there anything else you'd like your customers to know, or just anything else you'd like to say before we end?


Ursula
:
Another thing that stands out right now is our customer support. You mention experience with other software, maybe other services that you use. Personally, I have a hard time sometimes when I call into customer support. Our customers really appreciate our support. It's a very friendly staff.
We're very transparent too, in terms of the feedback that we get. If you go to AppFolio.com/survey, we post the real-time feedback from our customers.
To Sum It Up!


AppFolio is property management software. AppFolio is available online and offers marketing, accounting, and management pieces. AppFolio's emphasis on creating a quality product is demonstrated through their customer satisfaction; customers demonstrate their appreciation through work parties and create AppFolio T-shirts.


Like this article? Check out other similar articles with information on technology resources on our Property Management Tech Tools Reviews Page!
Find Property Managers Near You
Select Property Type
Single Home or Condo (Valued up to $300K)

Single Home or Condo ($300K to $500K)

Single Home or Condo ($500K to $1 Million)

Single Home or Condo (Over $1 Million)

Multi-Family (2-4 units)

Multi-Family (5-19 units)

Multi-Family (20-99 units)

Multi-Family (100+ units)

Homeowners Association (2-49 units)

Homeowners Association (50-99 units)

Homeowners Association (100+ units)

Condominium Association (2-49 units)

Condominium Association (50-99 units)

Condominium Association (100+ units)

Retail (Up to 9,999 sqft)

Retail (10,000 - 100,000 sqft)

Retail (100,000+ sqft)

Office (Up to 9,999 sqft)

Office (10,000 - 100,000 sqft)

Office (100,000+ sqft)

Warehouse/Distribution (Up to 100,000 sqft)

Warehouse/Distribution (100,000+ sqft)

Light Manufacturing (Up to 100,000 sqft)

Light Manufacturing (100,000+ sqft)

Parking Garage

Biotech/Mission-Critical

Vacation (1-2 units)

Vacation (3+ units)

Other Associations (Hotel, Resort etc.)

Mobile Home Community