Upgrade your Kitchen on the Cheap, Gain Value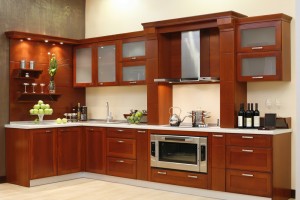 There are many ways to increase the value of a home. One that you don?t want to overlook as a homeowner is the kitchen. A simple remodeling project can help to increase the overall value of your home, and if you are selling, it can give you the best chance at achieving success. While many people think that upgrading a kitchen is an expensive project this is not always the case.

The way you decide to upgrade your kitchen depends on what you currently have in place. To go along with this, upgrades must be based on your budget as well. For instance, you may want to hang new cabinets. This is a great way to upgrade your space and effectively increase the value of your home, but at the same time you need to consider all of your options. Are you going to buy basic, pre-made cabinets from a large hardware store? Or will you spend the extra money on custom cabinets?

One of the best ways to upgrade your kitchen without spending a lot of money is to do the work on your own. Do you know how to hang cabinets? Can you lay new flooring? Even if you don?t have experience you can learn as you go along if you have the right tools and a little bit of guidance from a professional handbook or video.

To increase the value of your home you should consider upgrading your kitchen. Believe it or not, you don?t have to spend an extraordinary amount of money to make your kitchen a more enjoyable and valuable space.
Find Property Managers Near You
Select Property Type
Single Home or Condo (Valued up to $300K)

Single Home or Condo ($300K to $500K)

Single Home or Condo ($500K to $1 Million)

Single Home or Condo (Over $1 Million)

Multi-Family (2-4 units)

Multi-Family (5-19 units)

Multi-Family (20-99 units)

Multi-Family (100+ units)

Homeowners Association (2-49 units)

Homeowners Association (50-99 units)

Homeowners Association (100+ units)

Condominium Association (2-49 units)

Condominium Association (50-99 units)

Condominium Association (100+ units)

Retail (Up to 9,999 sqft)

Retail (10,000 - 100,000 sqft)

Retail (100,000+ sqft)

Office (Up to 9,999 sqft)

Office (10,000 - 100,000 sqft)

Office (100,000+ sqft)

Warehouse/Distribution (Up to 100,000 sqft)

Warehouse/Distribution (100,000+ sqft)

Light Manufacturing (Up to 100,000 sqft)

Light Manufacturing (100,000+ sqft)

Parking Garage

Biotech/Mission-Critical

Vacation (1-2 units)

Vacation (3+ units)

Other Associations (Hotel, Resort etc.)

Mobile Home Community