What to Cover in Your Lease Agreement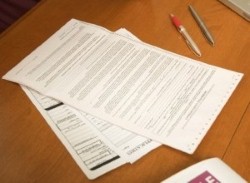 The more specific state laws are, the less a lease agreement is likely to need to cover. Some state have more explicit stances on various topics than others, which eliminates the need for a landlord or rental manager to set policy.

Some states, such as? Michigan, have specific statements or disclosures that all leases must contain verbatim in order to be considered legal and valid. Even if no law is violated, failure to include such statements could render the lease document void.

Generally, there are a few key things every lease should make clear:

♦ All costs. This includes the rent and its due dates, the amount and terms of any security deposit, whether first and last month's rent are required, late fees and related information.

♦ Information on utilities, specifying which the tenant must pay personally and which are included in the rent. It should also be clear who is responsible for any late fees or additional charges associated with utility payment.

♦ The start and end dates of tenancy and addresses for the landlord, rental property, and where? payments are to be sent.

♦ Eviction procedures

♦ Clear definition of the repair and maintenance responsibilities of landlords and tenants, as well as any penalties for failing to meet them.

Any discretionary clauses governing activities such as pet ownership, smoking and other behaviors must be included as well in order to be considered binding. State law on these questions will vary, giving property management companies and owners a different amount of freedom in limiting tenants.
Find Property Managers Near You
Select Property Type
Single Home or Condo (Valued up to $300K)

Single Home or Condo ($300K to $500K)

Single Home or Condo ($500K to $1 Million)

Single Home or Condo (Over $1 Million)

Multi-Family (2-4 units)

Multi-Family (5-19 units)

Multi-Family (20-99 units)

Multi-Family (100+ units)

Homeowners Association (2-49 units)

Homeowners Association (50-99 units)

Homeowners Association (100+ units)

Condominium Association (2-49 units)

Condominium Association (50-99 units)

Condominium Association (100+ units)

Retail (Up to 9,999 sqft)

Retail (10,000 - 100,000 sqft)

Retail (100,000+ sqft)

Office (Up to 9,999 sqft)

Office (10,000 - 100,000 sqft)

Office (100,000+ sqft)

Warehouse/Distribution (Up to 100,000 sqft)

Warehouse/Distribution (100,000+ sqft)

Light Manufacturing (Up to 100,000 sqft)

Light Manufacturing (100,000+ sqft)

Parking Garage

Biotech/Mission-Critical

Vacation (1-2 units)

Vacation (3+ units)

Other Associations (Hotel, Resort etc.)

Mobile Home Community