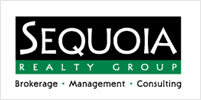 Sequoia Realty Group
MAIN OFFICE
1900 S. Highland Avenue
Lombard, IL, 60148
Sequoia Realty Group is a full service real estate firm based in Lombard, Illinois. The firm, founded in 1993, provides commercial real estate brokerage, asset and property management, consulting services, and investment and development services for retail, industrial and office properties.
Sequoia Realty Group's mission is to provide quality real estate services with honesty and integrity to clients who share the same values. We are committed to achieving the highest level of professional standards and to ensuring our client's satisfaction.
Because of our firm's size and the range of our staff's experience, we can offer clients a special kind of personal service and attention that many larger firms can't offer. The talented professionals of Sequoia Realty Group possess a comprehensive understanding of available products, market trends, financial options and negotiating techniques.
From tenant representation to large investment transactions, we carefully listen to our clients and analyze their requirements and objectives. Sequoia Realty Group does not profess to have all the answers, but we work with our clients to collectively determine the best approach to accomplish their goals. We then take the necessary steps to conduct research and to create and implement an action plan designed not only to meet but to exceed our clients objectives.
Sequoia's record of success has come from our pursuit of excellence in service, our dedicated staff, and most importantly, our unfailing commitment to our clients.
PROPERTY TYPES WE MANAGE
Office (Up to 9,999 sqft)
Office (10,000 - 100,000 sqft)
Retail (10,000 - 100,000 sqft)
Light Manufacturing (Up to 100,000 sqft)
Warehouse/Distribution (Up to 100,000 sqft)
Other Associations (Hotel, Resort etc.)