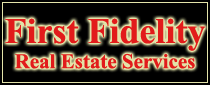 First Fidelity Real Estate
MAIN OFFICE
5000 Rowlett Road
Rowlett, TX, 75088
First Fidelity Real Estate Services offers Property Management at reasonable rates.
Our management list includes the following types of property:
Shopping Centers
Multi-Tenant Industrial
Single Tenant Industrial
Flex Buildings
Full Service Office
Garden Office
Because of our Low Overhead, we can manage your property at rates much lower than our competition. Client list and References available. Contact us today for a complete analysis of your property and how we can save you money.
PROPERTY TYPES WE MANAGE
Office (Up to 9,999 sqft)
Office (10,000 - 100,000 sqft)
Office (100,000+ sqft)
Retail (Up to 9,999 sqft)
Retail (10,000 - 100,000 sqft)
Retail (100,000+ sqft)
Warehouse/Distribution (Up to 100,000 sqft)
Warehouse/Distribution (100,000+ sqft)