Category: Maintenance & Repair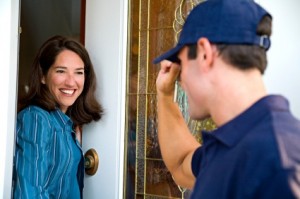 By Tracey March
A good tenant is your best asset, and as a landlord, retaining good tenants should be one of your biggest priorities. The good news is that keeping great renters isn't too hard if you know what to do. Here are ten things you must do to keep your good tenants happy enough to stay put!
1. Respond quickly to complaints about noise or reports of criminal activity, such as drug dealing.
If you have specific rules about noise, enforce them. If you are aware of any crimes taking place on your rental property, take action immediately. Evict drug dealers; consult your attorney if you need help, or consider hiring a property management company that includes evictions in its services. If drug dealing is happening on a nearby property that is not owned by you, work with neighbors, the property owner, and the police.
2. Schedule maintenance and repairs at times convenient to your tenants, and let them know in advance.
Minimize the impact of repairs and maintenance by scheduling them at the times your renters are least likely to be around, typically between 9 and 5, Monday through Friday. Let your tenants know in advance when repair work is being done, and why. Consider the safety and security of your tenants while the work is taking place (for example, if a tenant's parking spot will be unavailable during repairs, provide another). After the work is finished, send a thank you note.
3. Provide designated parking spots and enforce parking rules.
Having a parking spot with a short walking distance to home is very important for many tenants. Assign parking spots and enforce parking rules. Send warning letters to tenants who break the rules and have their cars towed if they ignore your warning. Also, make sure you have well-marked and sufficient guest parking.
4. Follow through on repair requests and other commitments. 

It's simple: do what you say you'll do. Recognize that all tenants want their repairs handled promptly, efficiently, and predictably. And remember that many tenants are "renters by choice". They prefer to rent rather than own partly because they want someone else to be responsible for repairs. Have a repair and maintenance process that helps you consistently meet or exceed tenant expectations.
5. Give your tenants advance notice of upcoming inconveniences that you're aware of.
Warn tenants about unexpected inconveniences that will be taking place near their home. If you're aware of upcoming road closures or a planned power outage, consider sending out a newsletter, email, or a quick text message informing your tenants, so they have an opportunity to prepare or change their plans. You can also keep tenants updated using a Facebook or Twitter account.
6. Understand that your tenants want to feel safe at home.
Make sure that any outdoor areas used by tenants at night (such as a parking areas, paths, and entries) are well-lit. Keep foliage trimmed, and fences low. Stay on top of repairs. Arrange for a safety and security survey a couple of times a year, and let your tenants know when you've made improvements. Also consider giving your tenants some safety guidelines when they move in.
7. Make sure all of your tenants follow the House Rules.
Good tenants are good neighbors. In return, they want the same consideration. They will follow the rules you have developed for your rental property, as long as they are reasonable. All of your tenants should read and sign a copy of your rules when they execute the lease. Explain to your tenants that the rules will be enforced. Consider eviction for serious violations.
8. Consider allowing pets; and if you do allow pets, make sure owners clean up after them!
Tenant retention has been shown to improve if you allow pets, and certainly there are some great tenants out there who are also animal lovers. If you do allow tenants to keep pets, require them to clean up after them in the lease and require them to keep them on a leash when outside the rental unit. Provide "doggy bags" and garbage cans close by. If any tenants are not complying with your pet policy, issue a written warning. If that doesn't work, ask them to remove the pet from the rental. Also consider this company–PooPrints. They are the CSI of dog poop for property managers, detecting which pooches are dropping bombs.
9. Be polite, courteous, and professional.
Recognize that being a landlord requires you to have great customer service skills. Never complain about your job or personal life. When the phone rings and the call is from a tenant who is paying you thousands of dollars a year, politely ask how you can be of assistance, no matter how bad your day is going.
10. Create opportunities to appreciate your good tenants.
I have read that you have to thank someone seven times before they really feel appreciated. I'm not suggesting that you maintain a spreadsheet tracking your appreciative words, but you should say "thank you" or send thank-you cards when appropriate. Gestures such as these go a long way in making your good tenants feel welcome and appreciated.
Good tenants know they are good tenants, and they expect to be treated that way. It's worth the extra effort to keep them–they pay their rent on time, they maintain your property well, and they're generally pleasant to deal with. If you are reliable, professional, and courteous, they will be too.
Do you have any tips for good tenant relations? We'd love to hear them.
By Tracey March
The potential dangers of toxic mold have received lots of attention, and there is still much controversy about the extent of those dangers. Most state and local authorities haven't addressed mold issues directly. What does this mean for the landlord? Lots of uncertainty.
There are Few Clear Guidelines About Mold
Few jurisdictions have clear rules about landlord responsibilities for mold, partly because the health impacts are uncertain. There is no federal law, and only a handful of states and cities have addressed the issue directly (states include: California, Indiana, Maryland, New Jersey, Texas; and cities include: New York and San Francisco). Without clear guidance, landlords may mistakenly assume they can't be held liable for tenant damages caused by mold.
Juries Have Awarded Damages for Mold
In 2001, mold got a lot of attention: a jury awarded a family in Texas $32 million for their insurer's failure to cover repairs for water damage, which led to the growth of toxic mold.[1] Juries in other states have also award damages for mold, causing many insurance carriers to drop mold coverage from their policies. Mold has made the real estate and property management industries nervous: after all, if an insurance company can be successfully sued for not properly covering water damage, a property owner could also be sued for failing to disclose the presence of mold and a landlord could be sued for failing to repair water problems that caused mold.
The Warranty of Habitability
Although there is no law or regulation directly addressing mold, landlords can still be held liable for mold problems under the warranty of habitability, which requires landlords to keep their properties "livable." This includes fixing leaks and other water or moisture problems. Mold can't grow without moisture, so if the failure to fix a leak caused a mold infestation that damaged a tenant's property or health, the landlord could be liable for damages.
Tips for Landlords
Dealing with mold may seem difficult when there are no clear guidelines to follow. Despite the uncertainty, you can minimize your risk:
Check insurance coverage. Check your policy, its limitations and exclusions to see if you are covered. Immediately notify your insurer of mold claims, regardless of coverage.
Consider requiring a mold inspection in the lease. Requiring the tenant to pay for a mold inspection by a certified "industrial hygienist" could protect you from claims that you knowingly rented an "uninhabitable" (because of mold) housing unit. Some attorneys suggest a lease provision releasing the landlord from mold-related liabilities; however, many courts would likely find that language void and against public policy.
Require tenants to immediately notify you about water damage, broken dehumidifiers, condensation, etc. If tenants failed to notify you about a leak or other water issue that they were aware of, then you will have a defense if they later try to claim that you are liable for resulting damages.
Require tenants to carry renters insurance. If their property is damaged by mold, tenants should make a claim with their insurers.
Be proactive in maintaining your property. Mold can't grow without moisture. Preventive maintenance minimizes the opportunities for mold growth. Regularly inspect for: leaks in windows and roofs, water staining, and moisture and condensation (including in the HVAC system). During inspections take note of mildewy, musty odors, and look for mold and fungus. Resolve any issues promptly.
Respond quickly and appropriately to tenant complaints. If a tenant reports a mold or moisture problem, have the property inspected by a professional (ideally a "certified industrial hygienist" willing to add you as an additional insured under their insurance policy). Make sure any mold is removed and remediated consistent with Environmental Protection Agency mold guidelines. Always document inspections, repairs, and remediation. And always follow up with the tenant to make sure the problem was fixed.
Compensation for Damages Caused by Mold
If your tenants want compensation for damages caused by mold, consider consulting an attorney about your obligations based on your specific situation. Generally, you can't be held liable for damage to tenants' property or health unless you knew or should have known about the problem–that's why preventive maintenance and responding quickly to complaints are so important. However, if you knew there was a water problem or mold infestation, and you failed to have it repaired, your tenant may have a strong claim for damages.
Tenant Relocation Due to Mold
Tenants who have to temporarily relocate due to a mold infestation or remediation may have an argument that they should not pay rent for the time they were unable to use their rental, or that the landlord should pay for hotel and other expenses resulting from having to vacate their home. Be aware that if you refuse to compensate tenants for these expenses you could be taken to small claims court (if the damages are less than a certain amount), or be sued in regular court.
The Important Points: Preventive Maintenance, Immediate Repairs, and Prompt Remediation
Be pro-active. A preventive maintenance program, including regular inspections, should help you avoid mold problems. If you are aware of a water or mold issue, address it effectively and immediately, using experts (if necessary) and documenting your actions.
___________________________
As always, this information should not be considered legal advice. Keep in mind that state and local jurisdictions have different laws and rules. Always check the rules and regulations in your area and consult an attorney before changing your lease agreements or taking any action.
---
[1] On appeal the award was dropped to $4 million plus interest and attorneys' fees.
By Tracey March
Landlords in every state may collect a security deposit from new tenants; but all states require that every security deposit is refundable at the end of the tenancy if the property is in the condition it was at move-in, minus "normal wear and tear." Put another way, you may only apply the security deposit to "damage" to the unit or its fixtures.
As you may have experienced, defining "normal wear and tear" versus "damage" has often been a source of disagreement between landlords and tenants. In this article, I explain "normal wear and tear" and "damages," provide concrete examples of each, and discuss good practices for minimizing conflict on this issue.
"Normal Wear and Tear" versus "Damage": Definitions
Explaining "normal wear and tear" can be tricky—most definitions are somewhat ambiguous. Typical examples are:
unavoidable deterioration in the dwelling and its fixtures resulting from normal use (definitions.uslegal.com)
the lessening in value of an asset due to ordinary and normal use (also attributable to age)
the inevitable physical decline of the condition of a property from time and usage (www.investopedia.com)
the natural deterioration of the rental that occurs during normal conditions (tenantlandlord.org)
Three of the four definitions listed above contain the word "normal"—and we all know that "normal" can be subjective.
The definition of "damage" is almost as challenging. Definitions usually look something like this:
the loss or harm to property caused by excessive abuse or misuse
misuse or neglect that results reduces value, usefulness, etc.
The definition of "damage" also includes some pretty subjective terms.
"Normal Wear and Tear" versus "Damage": Examples
Examples can provide some insight into the differences between damage and "normal wear and tear":
| | |
| --- | --- |
| Normal Wear and Tear | Damage |
| Worn carpet and linoleum | Stained carpet and linoleum |
| Cracks in walls caused by settling | Holes and dents in walls caused by accidents or carelessness |
| Faded or blistered paint | Drawings on walls or unapproved painting by tenant |
| Garbage disposal that stops working because motor dies | Garbage disposal that breaks because a fork jammed inside |
| Grout on bathroom tiles cracked | Broken bathroom tiles |
| Laminate top separated from countertop base | Burns and chips in laminate countertop |
| Loose door handles | Missing door handles |
| Watering can left in yard | Trash pile in yard, outdoor furniture left on patio |
"Normal Wear and Tear" versus "Damage": Good Practices
Although "normal wear and tear" and "damage" are difficult to define, you can nonetheless protect both yourself and your tenants from misunderstandings or confusion. As with most things, communication is the key: if both you and your tenants are clear about the condition of the unit at move-in, the importance of promptly reporting needed repairs, and expectations at move-out, the tenancy and the end of the tenancy will be smoother.
Insist on a walk-through with new tenants. At the walk-through new tenants will have an opportunity to note in writing existing damage and wear and tear in the rental. Encourage tenants to examine the rental from floor to ceiling, open and close doors, test all appliances and locks, looks for leaks in the kitchen and bathrooms, and look for signs of pest infestations. In addition, consider taking dated photographs of the unit for your tenant file. Both landlords and tenants are protected by the walk-through: tenants can't be blamed for damage that was noted in the file at the beginning of the tenancy and landlords have a baseline to refer to upon move-out. Many walk-through forms and checklists are available online.
Require in the lease that tenants promptly notify you of needed repairs. Encourage your tenants to help you maintain the rental unit—it's in everyone's best interests. Make it clear to tenants that if they don't notify you of a leaky pipe or broken dehumidifier, they could be responsible for any damages (such as mold and rotting wood). Make it easy for tenants to notify you by making your contact information available in different formats, such as on business cards, your website, or even refrigerator magnets.
At move-in provide tenants with a "Wear and Tear versus Damages" document and a cleaning checklist. Several websites (including nolo.com and some state websites and landlord or tenant organizations) provide charts that list different examples of "normal wear and tear" and "damages." Give new tenants similar charts and have them initial them at the time they sign the lease agreement. In addition, give new tenants a cleaning checklist, so they know what will be expected of them at move-out.
Before move-out refer tenants to the "Wear and Tear versus Damages" document and cleaning checklist. Being reminded of the difference between "normal wear and tear" and "damage" can be helpful to tenants when they are cleaning their rentals in preparation for moving out. For example, if a ceiling fan bulb is missing, they can replace it; and they will know to remove any trash piles or waste from the yard. Also give your tenants the cleaning checklist at move-out to clarify what you expect them to clean.
The Important Points: Normal Wear and Tear
As with many landlord and tenant matters, clear communication can minimize misunderstandings and conflict. Always conduct a walk-through at move-in to give you and your tenants an opportunity to note specific damage and wear and tear in the rental property. Both you and your tenants should sign the document. Encourage your tenants to report any needed repairs, and respond promptly to their requests. Finally, provide tenants at move-in and move-out with a list of examples of "normal wear and tear" and "damage," along with a cleaning checklist.
What are your personal experiences with "normal wear and tear" and "damage"? This writer clearly remembers as a student having to pay for repair of a door that was damaged by an earlier tenant. There had been no walk-through inspection.