Category: Marketing
These days, marketing is everything. Finding new owners and adding more properties to your portfolio is the name of the game. Yet budgets are tight, time is precious, and there is little room for error in this increasingly competitive market.
Ask yourself:
1) Are your marketing efforts recruiting new customers?
2) Are you spending your marketing budget wisely?
3) Where does the rest of the industry stand?
To help you answer these questions we recently surveyed 375 of your fellow property managers to find out what's working and what's not. And the results are in.
1) THE BIGGEST CHALLENGE FOR PROPERTY MANAGERS IS FINDING NEW CUSTOMERS
In this new world of increased competition, fickle owners, and dynamic regulation, this comes as little surprise. 84% of property managers reveal that finding new customers is the biggest challenge facing their company in the next year.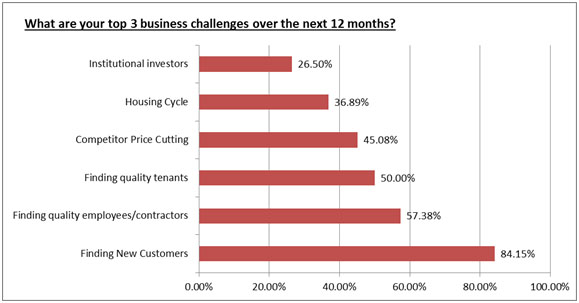 Biggest Challenges Facing Property Managers
What is surprising however is the intensity of this need. The second biggest challenge property managers reveal is finding and retaining quality employees, but this is ranked a full 26 points lower on the scale of importance.
2) PROPERTY MANAGERS FOCUS THEIR MARKETING EFFORTS TOWARDS ONLINE LEAD SERVICES AND WORD OF MOUTH
Next, we wanted to understand how property managers allocate their marketing budgets. We learned that the highest percentage (about 23%) is focused on Online Lead Services. Second is Word of Mouth, to which property managers allocate 19% of their marketing budget. Other sources of focus include Standalone Websites, Broker Referrals, and Print. TV/Radio and Social Media receive the least funding.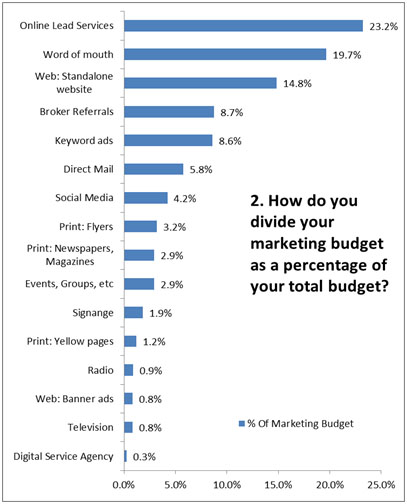 What is interesting about these responses is how little property managers invest in newer marketing channels such as Social Media, or how little time property managers spend to plan and host Events. It seems that many managers are being cautious with their resources and sticking with known channels or using methods that don?t require a whole lot of time.
3) THE BEST SOURCES OF LEADS FOR PROPERTY MANAGERS ARE WORD OF MOUTH AND ONLINE LEAD SERVICES
Property managers told us that 33% of new customers come from Word of Mouth referrals, the most of any source. Online Lead Services come in second with 20.2%. Other sources of value include Standalone Websites and Broker Referrals. Social media, TV/Radio, and Events are the least effective sources of new customers.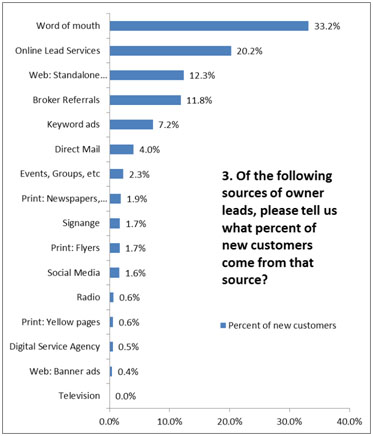 4) THE HIGHEST QUALITY LEADS FOR PROPERTY MANAGERS COME FROM WORD OF MOUTH REFERRALS
Lastly when it comes to quality, Word of Mouth and Broker Referrals received the most ratings of 1 or 2 and had the highest net quality ratings of 252 and 129 respectively. Property management companies said that their leads from the Yellow Pages, Flyers and TV are the worst quality, with the three sources having the three lowest net quality ratings. The most common response for each source was a rating of 3, as you can see on the graph.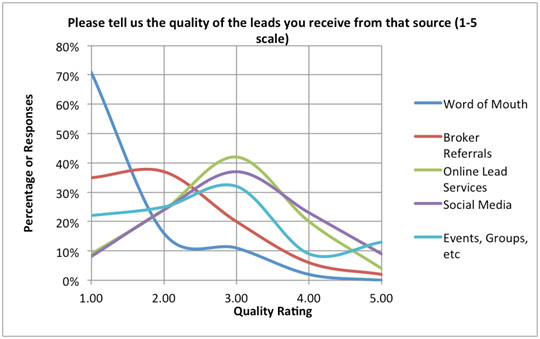 How Successfully Are You Recruiting New Customers Compared to the Rest of the Industry?
We know it's hard out there. Finding new customers and retaining them is tough work. But that's our area of expertise. Over the last 10 years, All Property Management has connected over 600,000 owners to property managers just like you, from coast-to-coast. Call us and talk to an account manager today: (888) 238-8948.
In the old days when you needed to find a good tenant you called the local newspaper and spoke to a sales rep who'd help you craft a catchy phrase or two for a listing in the classifieds. Hardly any renters are reading the paper nowadays, so we landlords are on our own.
Below are my thoughts on how you can become an effective Craiglist marketer. While I use Craiglist a lot because it works well for property management in Los Angeles, Ventura and Santa Barbara, California, the tips I share below apply to other social media as well.
To compose an effective Craigslist ad you must put yourself in the shoes of a potential tenant. If they go to Craigslist in a mid-size city they will be faced with hundreds of new rental postings each day. If they live in a metropolitan area like Los Angeles, this can reach thousands. There is no way a prospective tenant will sift through that many listings to find your property. Therefore, there are two requirements for successfully writing a Craigslist ad. The first is easy, you have to renew the ad as often as Craigslist allows in order to stay on top of the pile. The second is to write an ad with a lot of search terms (aka keywords). Prospective tenants enter specific items they are looking for in the search box and if you are lucky they will make it through 30-40 ads. Being in the top 30-40 ads of a search results page will determine if you wrote a successful ad.
Below are keyword categories related to location that I would highly recommend including in your ad:
Neighborhood

A local college or school if one is nearby

Nearby parks

Beaches, lakes, recreation areas

Shopping

Downtown

Restaurants
And here are some keywords related to the condition of the rental and its amenities to include:
Granite counters
Hardwood floors
Tile
New carpet
New paint
Remodeled
House
Patio, yard, balcony, fireplace
View
Large
Bright
Also, you should always use the word "Pets" if you allow them in your rental. Simply checking the "pet friendly" box in Craigslist isn't good enough. Also, list nearby transportation such as subways, buses and trains.
Here's an example of a poorly written ad:
Nice 2 bedroom 2 bath property located close to everything. The property was upgraded and has many amenities. Owner pays water and trash. Ready now. Available for 2,000/mo.
Here's an effective ad:
Large remodeled 2 bedroom 2 bath house located in West Beach. Close to downtown, shopping and restaurants. The unit features a fireplace, large yard with patio, new paint and hardwood floors. Small pets ok. Available now for $2,000/mo.
Notice the liberal use of search keywords which I underlined above. The difference between these two ads might initially seem minimal, but the results they produce are substantial. The second ad was written with 16 keywords that tenants search for.
This is one of the reasons I think most people who want to rent out their homes benefit by having a professional property manager. A few simple techniques learned over time can save a lot of money. Maybe in another post I'll discuss how to screen out the good potential tenants from the bad ones in the dozens of replies good ads get on Craigslist. In the meantime, remember that each day a property sits vacant represents lost revenue. And the benefits of being free of the stress of owning a vacant rental home are priceless.
Justin Egerer owns Sandpiper Property Management, a full service property management company whose portfolio includes single-family homes, apartments, condos and commercial real estate in Santa Barbara, Ventura and Los Angeles, California.