Category: Marketing
By Tracey March
If you aren't using the Internet to market your rental property and communicate with your tenants, you're probably missing out. A new survey confirms what most of us already knew: people are relying more and more on the Internet to find rental homes and apartments; they're using online review sites to make decisions; and you could improve tenant retention by using social media sites to inform your tenants about the great things happening in your neighborhood.
Researchers at J Turner Research recently surveyed 41,303 apartment home residents about how they use technology to find apartments and communicate with property managers, as well as how they use social media and online review and ratings websites. While this survey focused on residents in larger apartment communities, much of the information is applicable to smaller multi-unit rental properties and even single family homes that are either self-managed by landlords or being managed by property management companies.
The survey found:
64% of apartment residents used a rental listing site on the Internet to find their apartment. Craigslist was particularly popular.
TIP: use Craigslist or another rental listing site to advertise your available rentals. Because potential renters are becoming more and more nervous about rental scams, make sure you include a link to your business website. Most scammers don't have the time to create a professional looking, functional website.
An overwhelming majority of people didn't use Facebook or Twitter to find their apartment.
TIP: Don't advertise your rentals on Facebook or Twitter, especially if you have several available that could clog up your follower's feeds. Instead, reserve those social media accounts for more friendly, useful posts, such as community events, or interesting photos.
Prospects rely heavily on apartment community websites when researching apartments. They especially like to see information on pricing, amenities, floor plans, and unit availability.
TIP: If you have a website for your rentals, include a list of available units, with pricing, a page for amenities (including laundry, parking, wi-fi, etc.), and a page for available floor plans. Property management companies should consider listing available rentals on their websites, and should include detailed information for each one.
Most apartment research is done on personal laptops, not mobile phones.
TIP: Make sure your full website is running well and providing the information renters want before you focus on a mobile site.
Residents are more likely to use their smartphones to pay rent than to mail in a check by 3:1.
TIP: If you don't use one already, it really is time to consider using an online rental payment service. Not only do these services make it easier for your renters to pay you, they make it easier for you to track rent payments, and you don't have to worry about lost checks, or drop boxes getting broken into.
1/3 of respondents prefer not to receive texts at all; 62% want to limit them to emergency announcements.
TIP: When new tenants move in and fill out their contact information forms, include a question asking them if you can text emergency information to them, or let them know in your "house rules" that in some emergency situations, you may text them.
74% of respondents used online ratings and review sites when they were doing their apartment hunting.
TIP: Whether you're a property management company for smaller properties or large apartment communities, stay on top of your online reputation by checking review sites and responding in a timely manner to negative comments with positive remarks. Set up a "google alert" with your company or apartment community name so you can track what people are saying about you. And respond to the nice stuff too!
Respondents visit their Facebook pages 1-3 times a day, and they're interested in neighborhood information such as restaurants, theater information, and community events.
TIP: Use your Facebook account to let renters in your local area or apartment community know about upcoming events, store openings, and special local deals. Knowing about these events helps your tenants realize they live in a great community. If you prefer to use Twitter, check out this list of Fifty Twitter Ideas for Property Managers and Landlords.
Does any of the information from the survey surprise you? Do you have any tips on how to respond to negative online reviews, or how to use Twitter and Facebook in your business?
These days, marketing is everything. Finding new owners and adding more properties to your portfolio is the name of the game. Yet budgets are tight, time is precious, and there is little room for error in this increasingly competitive market.
Ask yourself:
1) Are your marketing efforts recruiting new customers?
2) Are you spending your marketing budget wisely?
3) Where does the rest of the industry stand?
To help you answer these questions we recently surveyed 375 of your fellow property managers to find out what's working and what's not. And the results are in.
1) THE BIGGEST CHALLENGE FOR PROPERTY MANAGERS IS FINDING NEW CUSTOMERS
In this new world of increased competition, fickle owners, and dynamic regulation, this comes as little surprise. 84% of property managers reveal that finding new customers is the biggest challenge facing their company in the next year.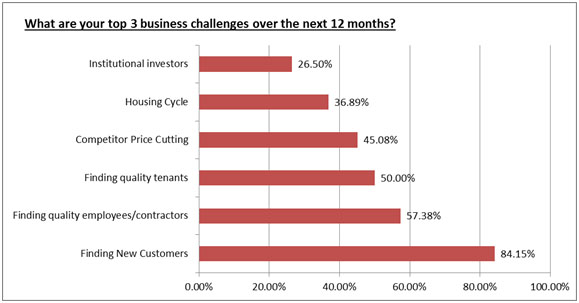 Biggest Challenges Facing Property Managers
What is surprising however is the intensity of this need. The second biggest challenge property managers reveal is finding and retaining quality employees, but this is ranked a full 26 points lower on the scale of importance.
2) PROPERTY MANAGERS FOCUS THEIR MARKETING EFFORTS TOWARDS ONLINE LEAD SERVICES AND WORD OF MOUTH
Next, we wanted to understand how property managers allocate their marketing budgets. We learned that the highest percentage (about 23%) is focused on Online Lead Services. Second is Word of Mouth, to which property managers allocate 19% of their marketing budget. Other sources of focus include Standalone Websites, Broker Referrals, and Print. TV/Radio and Social Media receive the least funding.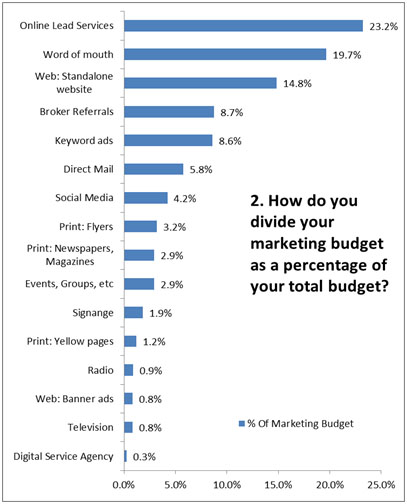 What is interesting about these responses is how little property managers invest in newer marketing channels such as Social Media, or how little time property managers spend to plan and host Events. It seems that many managers are being cautious with their resources and sticking with known channels or using methods that don?t require a whole lot of time.
3) THE BEST SOURCES OF LEADS FOR PROPERTY MANAGERS ARE WORD OF MOUTH AND ONLINE LEAD SERVICES
Property managers told us that 33% of new customers come from Word of Mouth referrals, the most of any source. Online Lead Services come in second with 20.2%. Other sources of value include Standalone Websites and Broker Referrals. Social media, TV/Radio, and Events are the least effective sources of new customers.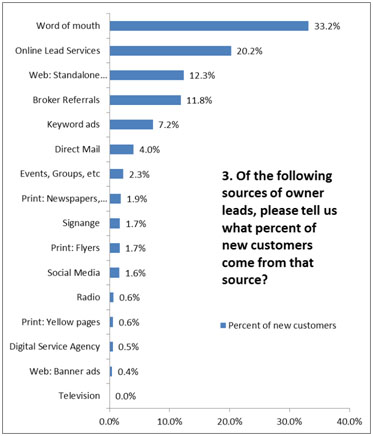 4) THE HIGHEST QUALITY LEADS FOR PROPERTY MANAGERS COME FROM WORD OF MOUTH REFERRALS
Lastly when it comes to quality, Word of Mouth and Broker Referrals received the most ratings of 1 or 2 and had the highest net quality ratings of 252 and 129 respectively. Property management companies said that their leads from the Yellow Pages, Flyers and TV are the worst quality, with the three sources having the three lowest net quality ratings. The most common response for each source was a rating of 3, as you can see on the graph.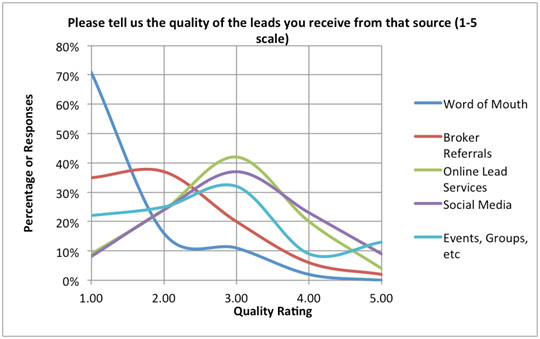 How Successfully Are You Recruiting New Customers Compared to the Rest of the Industry?
We know it's hard out there. Finding new customers and retaining them is tough work. But that's our area of expertise. Over the last 10 years, All Property Management has connected over 600,000 owners to property managers just like you, from coast-to-coast. Call us and talk to an account manager today: (888) 238-8948.